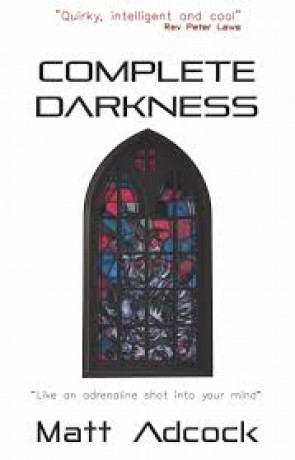 Book details
Complete Darkness

Series:

Darkmatters

Publisher:

Burton Mayers Books

ISBN:

978-0957338777

Published:

October 2019

Pages:

222

Format reviewed:

E-Book

Review date:

20/09/2020

Language:

English
Books in the series
Science fiction is a crowded market. There are a variety of ways in which a writer can try to tell a story that gives a sense of a possible future. Some of those ways are close to our reality, some are not.
Complete Darkness by Matt Adcock certainly offers a glimpse into something futuristic. A world where the attention span of the text reflects the dwindling attention span of readers. This is a frenetic ride of tangents, sly nods to popular culture and fragmented narrative, all wrapped up in 200 or so pages.
Cleric20 is the protagonist, an irreverent soul who transgresses any modern interpretation of the name, but then that's the point, we aren't in a modern society. He's ostensibly trying to stop a pseudo-scientific armageddon, as Adcock slams together the concepts of the Christian afterlife with the scientific quest to understand dark matter. This is myth play that provides a rationale right on the edge of science, as all the great and the good science fiction does.
This kind of dislocated future portrayed by Adcock is not dissimilar to Rajaniemi's Quantum Thief trilogy, but it is arguably less dense, relying more on pace and twitch than deep scientific thought. However, both have a similar effect, requiring the reader to float over the text, letting it wash through, rather than looking for specific visual references and clues.
In Adcock's story, the pop culture often serves as an anchor to the work. Whereas references like this can be considered twee or naff elsewhere, they are clearly being used as a device here, raising a wry grin or two with some light satirical poke at a celebrity, or a film franchise. They do remain something of an acquired taste, but spread humour across Adcock's narrative bread, to go with lashings of action, gore, religion and future technology. There's a shade of Zelazny in this juxtaposition, ensuring the reader understands they are in for irreverent equal opportunity entertainment that pokes fun at any and all the elements it draws from.
Readers of Rajaniemi, of Gavin Smith and his Age of Scorpio trilogy, or Neal Asher, will definitely see something in this, the first part of an intended series. Complete Darkness is actually somewhat shorter than it seems, with a strange spacing of the paragraphs on the pages, as you tend to see on webpages, but this does work, as it provides the reader with a breath between each dose of Adcock's frenetic and twitchy story.
You may also like