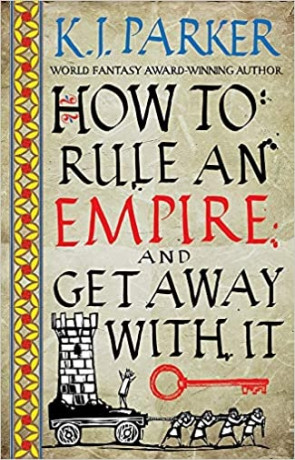 Book details
How to Rule An Empire and Get Away With It

Publisher:

ISBN:

9780356514383

Published:

August 2020

Pages:

384

Format reviewed:

E-Book

Review date:

25/08/2020

Language:

English
I have read a lot of speculative fiction that shows humans going crazy if a major event happens; a pandemic has rioting in the street or the voice of God echoing from the heavens leads to a rise in suicides. Perhaps it is a British thing, but I think that we would just shrug our shoulders and get on with things as best as we can. K J Parker appears to have similar opinion on humans as How to Rule an Empire and Get Away with It is set within a besieged city. Are the people panicking? Nope, they are getting on with their lives including going to the theatre to see actors like Notker, even if the roof is falling in.
Notker is not the best actor and gets more work for his writing and impressions. He is hired one night to imitate the rich and famous at a party but as he waits outside a projectile lands on the building killing all inside. You see Notker lives in a city surrounded at all sides by the enemy who have been attacking for months. The war is at a stalemate, but fate has intervened as the iconic hero Lysimachus was at that party and is now dead. Thankfully for the powers that be (and not Notker), the actor does a mean impression of said hero and Notker suddenly finds himself in the role of a lifetime, acting Emperor.
Rule an Empire is a sequel to an earlier adventure that I have not read but this book easily stands alone as Parker is such a competent writer who is able to compartmentalise stories and build the world again in each novel. Fantasy fans may know this author as Tom Holt, one of the most experienced writers in the genre who specialises in fantasy comedy. The change of name also leads to a change in style. The comedy is still present, but this is far more grounded and satirical.
At the centre is our unreliable narrator, Notker. He states that he is no hero, yet he finds himself once more at the core of events. Unlike traditional fantasy protagonists, Notker is not setting out to save others, but himself. Almost all his motivations are self-serving and if they happen to correspond with The City so be it. One of the most interesting elements of the book is how power sits on Notker's shoulders; great responsibility is thrust upon him and he meets the challenges as he can. Parker is hinting that our own leaders may not be as wise or as noble as we think. Perhaps they have just got a bit lucky and are winging it?
The best element of this book is how realistic the siege warfare feels. Although this is set in an alternative world, it is not fantastical. Instead it is a mixture of Shakespearian England and the Byzantium Empire. The book is darkly comedic, but Parker has also researched historic warfare to show the consequences of bombardments, disease, and undermining the foundations. Notker must deal with all these issues and he does so with knowledge. It is nice to see a character reading and surrounding themselves with clever people to make the most of a situation.
At its heart Rule an Empire is a caper. Notker finds himself being swept away in events and the book is essentially him trying to get some semblance of control back. It is funny and intelligent, but also dark and historically true. Although under a different name this book is right up there with the best that Holt has created, the nom de plume has given him the opportunity to alter his written voice slightly and produce something refreshing and fun.
You may also like