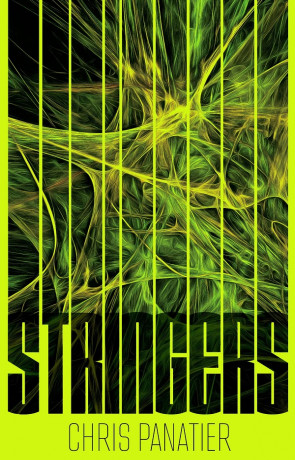 Book details
Stringers

ISBN:

9780857669629

Published:

April 2022

Pages:

371

Format reviewed:

Paperback

Review date:

16/04/2022

Language:

English
About the author
Comedy combined with Science Fiction is rare because it is so hard to do. When it clicks though it is worthwhile as you get some absolute classics such as Red Dwarf or Hitchhiker's. Those are mighty large shoes to try and fill, but Chris Panatier is giving it a go in Stringers, a book that feels like it may be the offspring of Douglas Adam's classic series of books but remains true to itself with its darker tone. You'll laugh, you'll cry, you'll read about someone pooping via a tube.
Ben is extremely ordinary in every way apart from one. He somehow has an encyclopaedic knowledge of the sex lives of insects and an impressive recall about watches. The only issue is that he has never researched either of these fields and was born with this knowledge preinstalled into his brain. Ben is what is known as a Stringer, an entity that can recall information from a past life. Stringers are bought and sold on the intergalactic market and Ben has just found himself as the hottest property in space.
As a fan of Hitchhiker's, I felt an immediate affinity for Stringers as they are both about useless blokes being sent into space with odd objects to confront things they just cannot comprehend. Ben is particularly hapless having drifted through his life so far, his most impressive skill is the ability to make excellent flies for fishing with. On his journey into the unknown comes his best pal Patton, the only human even less capable than Ben. When they face alien technology and entities there bumbling antics are very amusing and a jar of pickles is not going to help.
A parallel story runs alongside Ben's that eventually combines to become one. This centres on a Stringer hunter and their prisoners. This unlikely group will form an alliance with Ben and Patton to take on a larger threat than their distaste for one another. Panatier has a very wry sense of humour, and this is shown best in the patter between these frenemies, they will work as a team for now, but are not past gutting each other with a spoon if they get the chance.
For a comedy Stringer has a dark heart. Ben is not a happy human and his actions are less about being a hero and more about survival. He does develop as the book progresses and his friendship with Patton is a real highlight. So, when these two are captured at one point, their imprisonment hits even harder, there are some dark chuckles to be had, but between some hard scenes.
Having a comedy element did not stop Panatier from also producing some great hard science fiction concepts. The book is packed with some interesting ideas that the crew must take advantage of to survive. The book is also impressively alien. Too much outer space fiction is all human like aliens walking around. Stringer has many diverse types of races that feel truly alien. It is here that Ben's intuitive knowledge of insects comes to the fore as he can make parallels between the aliens he meets, and the myriad of insect and animal facts ingrained within.
The use of Ben's inner voice gives Stringers a distinct style and provides many of the funniest lines. It can aptly call itself a sci fi comedy, but the tone is far darker than you may think. The stakes are high and Panatier has no issues making the reader know this. Both Ben and Patton must go through some troubling times to succeed and not all the crew are guaranteed to make the end of the book. This darkness gives Stringers its distinctive style and makes it quite unlike anything I have read in the past, which is always a refreshing discovery.
You may also like