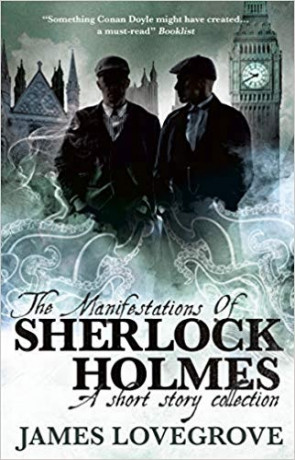 Book details
The Manifestations of Sherlock Holmes

Publisher:

ISBN:

9781789092004

Published:

January 2020

Pages:

362

Format reviewed:

Paperback

Review date:

23/01/2020

Language:

English
About the author
When you think of a Sherlock Holmes do you imagine a novel or a short story? The reality is that many tales that we know from Arthur Conan Doyle are from his short stories and it is more the modern reimagining of the character that have taken the longer form. James Lovegrove is a leading modern Sherlock Holmes writer and has produced several novels, but also several short stories. The Manifestations of Sherlock Holmes is a collection of some of his shorter works and they reflect that, although Holmes works well in a book, he is brilliant in a short story.
How well did we ever know Sherlock Holmes? He was an enigmatic genius, but also a drug addict and could be untrustworthy. How many of your friends have faked their own deaths for three years and never bothered to tell you? There are many ways to tackle Holmes. You could try to mimic the style of Conan Doyle himself, or perhaps draw out some of the supposed supernatural elements of the stories. Lovegrove manages to do both in this collection; he combines tales of the traditional with the fantastical to make a wonderful mixture of the intriguing and the macabre.
This collection contains twelve delightful stories that are split almost evenly between traditional feeling Holmes stories and tales that have a mischievous and fantastical edge. Both types work in their own way. Lovegrove has proven in recent years that he can take the stylings of Conan Doyle and give them a slight modern polish to make them a little more palatable for today's audience. He need not do too much as the idea of Holme's deductive reasoning still works brilliantly.
The contained nature of the mysteries in the book allows Holmes to shine. There is a quick set up and then a solution is forthcoming within twenty pages or so. No need for padding, just pure 100% Sherlock. The traditional tales feel thus, they would sit comfortably aside the originals. As well as highlighting Holmes' prowess they also give the reader a chance to solve the crime for themselves.
As much as I enjoyed the straight stories, it is the fantastical tales that really highlight the many manifestations the character can have. As the estate of Conan Doyle is now copyright free, authors can play with the boundaries. Lovegrove has done this previously with his Cthulhu crossover books. In fact, one very effecting story in this collection is set in this universe. Days after finishing the book I am still struck by the idea of a strange object so sharp that once it cuts you, the wound can never heal.
Just dropping a reader into a new manifestation would be tricky as some of Lovegrove's leftfield choices require an introduction. Thankfully, he prologues each tale with a little information on when and why it was published. Within this paragraph or two Lovegrove paints a picture. This is the Sherlock as you know him but in a land were all have superpowers or where he has met a certain Dr Jekyll.
As a fan of urban fantasy these strange stories chimed brilliantly. Lovegrove at no point loses sight of what makes Holmes and Watson so iconic, but he plays with the format. Each story is a mystery, but by adding extra ingredients you get a completely different flavour. Purists may struggle to understand why you would bastardise Conan Doyle's legacy, but this is not what Lovegrove is doing. I would be bold enough to say that by adding supernatural elements and exploring new avenues, Lovegrove is in fact nurturing the legacy so that it may live on even longer.
This collection of twelve short stories highlights two things; how well Sherlock Holmes adventures work in the shortened format and how great Lovegrove is at writing the characters. He is at once playful and respectful. He can pay homage to the original but is not afraid to explore strange new places. For a reader like myself who is a fan of both camps, this collection is like ambrosia. A wonderful collection of Sherlock Holmes stories for the modern and future fan of the character.
You may also like