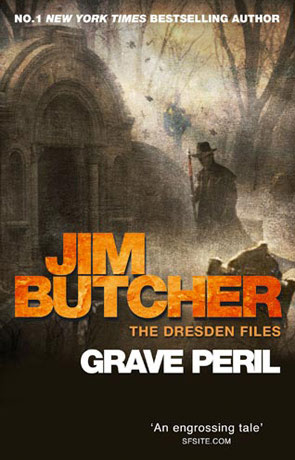 Book details
Grave Peril

Series:

The Dresden Files

Publisher:

ISBN:

978-0356500294

Published:

September 2001

Pages:

384

Format reviewed:

Paperback

Review date:

24/09/2013

Language:

English

Age Range:

N/A
Books in the series
About the author
The third adventure that follows Chicago's only Wizard Harry Dresden get's off to a powerful and swift start that doesn't let up for the whole novel. This time Harry has some help in the form of a Knight of the Cross Michael Carpenter who is a "righteous" man, driven by his devout faith and bearer of the sword of god.
The story is very much focused on the spirit world as Harry and Michael are caught up in a chase to stop a very powerful force, a Nightmare that has broken free from the spirit realm of nevernever and seems intent on destroying as many lives as it can.
Teaming up with Michael changes the dynamic of the story and is a brilliant move by the author, who manages to deliver a wonderfully powerful story that keeps the reader on their toes without losing them at any point. I loved the interplay between Michael and Harry along with the character of Michael himself which provides a great reflection of humanities most redeeming features.
Imaginative and creative in equal measure, Butcher's prose really shines and none more so than when we get to learn more about this rich spirit world including a trip or two into Nevernever itself. These journeys into the border between the true spirit dimension and our own break up the story very effectively, a compelling juxtaposition that highlights the mortal realm.
This novel is without a doubt the most accomplished of the series so far, not only is there are a greater sense of maturity but the plot is inventive and wonderfully nuanced. The growing cast of characters are also drawn exceptionally well and overall it just feels like such a nice read, there isn't any other way to say it - it's simply incredibly rich story telling and the finest urban fantasy you will find anywhere.
Written on 24th September 2013 by Ant .
You may also like