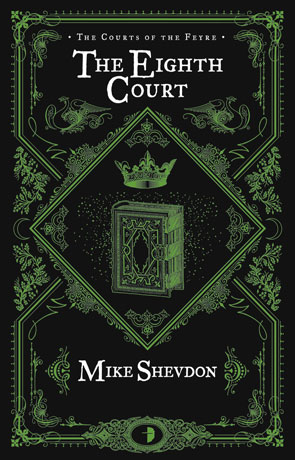 Book details
The Eighth Court

Series:

The Courts of the Feyre

Publisher:

ISBN:

9780857662279

Published:

June 2013

Pages:

400

Format reviewed:

E Book

Review date:

01/07/2013

Language:

English

Age Range:

N/A
Books in the series
About the author
One of my favourite series has now reached book four and continues to astonish and astound in the quality and conviction of the writing, the continued building of the rich tapestry that is The Courts of the Feyre and the journey of the complex characters that inhabit Shevdon's urban fantasy.
The novel picks up right where we left Niall, Blackbird, Alex and baby at the end of Strangeness and Charm - the struggle to create the Eighth Court heightens as fey hatred towards the "half-breeds" continues and the body count begins to mount. As this is the last book in the series there is a lot going on and the pace builds towards a pretty spectacular (rewarding) finale.
This is without doubt one of my favorite fantasy series and this final novel in the series does not disappoint in the slightest. It's great to see how the characters have grown over the four books, Niall began as a nobody who had some serious life issues; seemingly in the wrong place at the wrong time and has grown into a protector of the courts of the fey, a new father and husband with a great deal of power. Then there is Blackbird, an enigmatic figure who still manages to surprise on a regular basis; a character full of secrets that are hinted at but never revealed - creating a figure of irresistible mystery. The role of Alex makes a great vehicle to explore that volatile and often moody creature known as the teenager and it's a great hook to see her grow, develop and get used to her unique powers as the story progresses; very effectively portrayed by the talented Mr Shevdon.
The quality of the prose is, as ever, quite magnificent - almost poetic in places and yet with such a disarmingly easy reading style that it's ever so easy to lose track of an hour or three while nose deep in the book. There is no wasted space either, with everything building towards a big finale the story threads are brought together effectively and with a panache that would cause serious envy from the very best street magicians. The tension just builds and builds with twists, turns, murder and betrayal all culminating in an ending, that is everything that it should be, powerful, poignant and climactic.
It's sad to see an end to this series, although at the same time I can't wait to see what the author does next. Urban fantasy at it's finest.
Written on 1st July 2013 by Ant .
You may also like