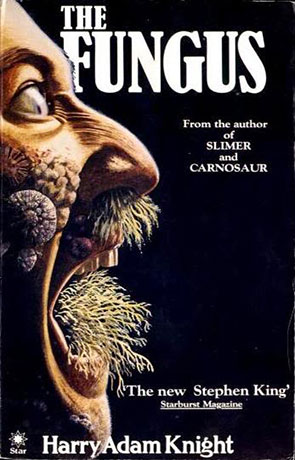 Book details
The Fungus

Publisher:

ISBN:

978-0988306233

Published:

1985

Pages:

314

Format reviewed:

Paperback

Review date:

12/09/2014

Language:

English

Age Range:

18-
When I was given this book I must admit I had my doubts. The front cover didn't appeal, the title seemed rather dated and the type of book I was expecting seemed very much planted in the 80's. Reading through the first few pages and I wasn't disappointed. It was exactly as I feared. Cheesy. Cliché ridden and almost cringe worthy. I read on, determined to at least do what I promised. And I am so glad I did. This book is fun. Once you get past the first few chapters what you have is a really well written book. Yes it has corny places and yes the subject matter does raise a few eyebrows, but from every angle I looked at it from, it works. It is fun, it is fast paced, it is nail biting and it is scary. It has the lot. I must admit the name of the author didn't ring any bells, despite this originally being an old book.
Some of the author's past works though stirred some memories and looking at older covers of this same book brought back yet more memories. I had heard of this author after all and would definitely recommend this book to anyone who doesn't take their horror too seriously and likes a bit of tongue in cheek stuff. Although written in the Eighties and with Thatcher references this book could well have been written five years or even last week. It can stand the test of time and this is one of the reasons why I guess it has recently been rereleased. Written by a pair of authors, Roy Kettle and the now deceased John Brosnan you can't tell who wrote what. It comes together really well and I am so glad I stuck it out.
The basic premise of the story is one of genetic modifications which does give it that current feel. It is a story where mushrooms are altered in order to be much bigger in size and can replicate themselves at a faster rate in order to help assist with world hunger. Obviously it all goes wrong and the fungus replicates, alters and spreads to encompass everything it comes into contact with. Even people who become a part of the fungus or much worse, food for it. It eventually takes over all of London and proceeds to encompass all of England. A group of potential heroes are enlisted to find a cure and a way to stop the fungus spreading globally. What happens in the rest of the book is just awesome and I won't say any more than that. The end is typically dark, much darker then I was expecting, but you know what. I will definitely pick up this book again at some point for a second enjoyable read.
Written on 12th September 2014 by Arron .
You may also like