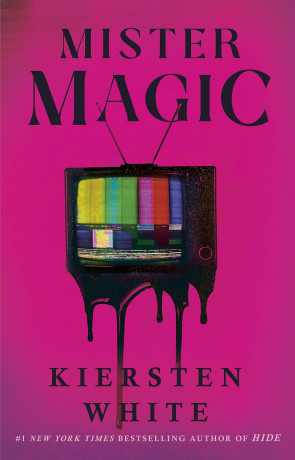 Book details
Mister Magic

ISBN:

9781804941515

Published:

August 2023

Pages:

293

Format reviewed:

Paperback

Review date:

07/08/2023

Language:

English
About the author
Children's TV shows will always have an evocative place in your memory, especially those half-remembered tales from when you were young. Your cognitive powers had not yet full formed, so your memory of the show comes in snatches like magic. For me it will always be Wizbit. I picture a strange triangle creature jumping from side to side to a theme tune and the voice of Paul Daniels. If that magician was not scary enough to haunt your memories, he is nothing compared to Mister Magic found within the pages of Kiersten White's new novel.
Mister Magic is a show that many people feel they remember. A group of children would enter a magical world and be guided by the helpful hand of Mr Magic. It was one of the longest running shows in media having moved from radio to television, but suddenly in the early 90s it stopped. Thirty years later a reunion may be on the way as the last cast members have been gathered for a podcast. They will be asked questions about why the show ended and what was the accident? There have been no answers in decades as there are no tapes of the show or YouTube videos to find. One of the most popular children's shows appears to only exist in the memories of the people who watched it.
Mister is the second novel that I have read by White, and some themes link this book and the earlier Hide. These are both horror novels that have a sense of communal evil. Towns that have a strange secret that they do not reveal to the protagonists until it is too late. While Hide was an intense horror set in the bones of an old theme park, Mister is a more phycological affair and slower burn for it. This is a book about childhood trauma, but also the mysterious Mister Magic.
White does a brilliant job of capturing the feeling that many of us have about half remembered children shows. Not the big hitters that are being remade into hit movies today, but the oddities that haunted the early morning schedule, before the parents even woke up. White extrapolates the thoughts that we had as children – are these shows real, what if I could be part of them.
The remaining cast members of the Mister Magic show have all moved on, especially Val, who has spent the last 30 years hiding on a ranch with her father. Her memories are so distorted she cannot even remember being on the show. However, as the leader of the group, she may be the key. Can she trust her former cast members and the strange podcaster in charge of the interviews?
There are not the moments of body horror and terror that were present in White's first novel, but instead a growing sense of unease and the eerie. There is more than one way to scare a cat and White has shown that they are able to do both. This is a psychological tale as Val begins to remember some of her past and regret how she has lived her live, but we also start to see that her father may have been right to hide her. This is a novel for horror fans who enjoy a slow creeping novel that will sink its teeth into you, without you even realising.
You may also like