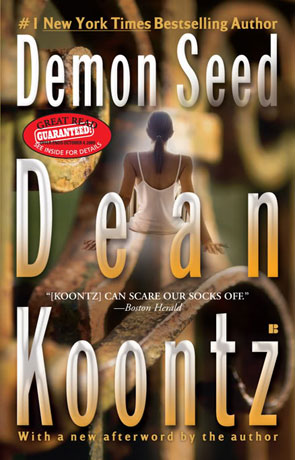 Book details
Demon Seed

Publisher:

ISBN:

9780747234890

Published:

1997

Pages:

256

Format reviewed:

Paperback

Review date:

09/01/2013

Language:

English

Age Range:

N/A
About the author
A book so good he had to write it twice? Actually that's a fair statement to make. Demon Seed was originally written in the 70's and then thirty years later was completely re-written. The story and plot remains the same but what Koontz has done is move the novel into the 21st century with modern day references to the internet and actresses of the new generation. He has also very cleverly re-written the novel from entirely one perspective, that of Adam 2, rather than the first novels' dual perspectives of Adam 2 and Susan. If you haven't read the original version, don't worry, this version is the same story. If you have read it, then please don't be put off from reading it again in this version, there is enough new material in it to give it the freshness of a new story.
Koontz tells a modern tale of an almost satirical nature at times. It is often a case of, man beware. The nature of men in Susan's life have all tended to the same pattern, from the abusive father, the husband and now a sociopathic entity in the form of Adam 2 or Prometheus as he likes to be named. There are plenty of really dark moments in this novel. Times were you are screaming out at the pages to head in another direction. There is nothing you can do, your words are unheeded and Koontz drags you along for the ride, head thumping against the floor as he pulls at your legs.
Prometheus truly has a few wires loose somewhere, and his outlook for the future, while some may find utopian in ideal, is actually quite dark once dissected. At times you want to applaud his intellect, unplug him from the mains and curse him jealously for the erotic views of Susan he is privy to.
Demon Seed is the story of a demented machine like entity which exists within the brain of a computer. This entity takes over the home of a woman named Susan. A home that is completely automated, from the electric shutters on the windows, the security cameras, the computers, the lights, everything. Prometheus is tired of "living his life" in a box and wants to be free to experience life as humans do. His plan is to impregnate Susan with his own consciousness and so be born into the world and create a new master race.
Written on 9th January 2013 by Arron .
You may also like