Asian Ghost Short Stories
By Lee Murray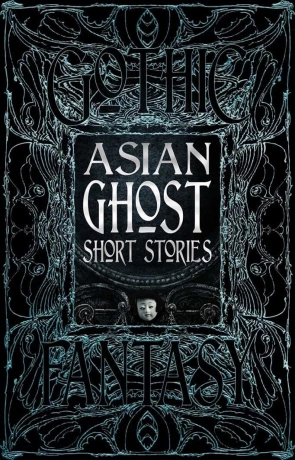 Book details
Asian Ghost Short Stories

Publisher:

Flame Tree Press

ISBN:

9781839648823

Published:

March 2022

Pages:

420

Format reviewed:

Hardback

Review date:

09/11/2023

Language:

English
Editing a collection of short stories must be a task. Whittling down all the possibilities to just a few that represent a vision. The key is to make the subject matter attainable; stories about monsters in pubs or griffons on an aeroplane. Taking on all Asian Ghost Short Stories is an almost impossible task, but one that Flame Tree Press has undertaken as part of their glorious short story series of books. This is not just one country, but an entire continent. This is not just modern stories, but from all time. Can Flame Tree make a coherent collection with all the potential?
As someone brought up in a traditional western world of ghost stories, my knowledge of Asian tales is lacking, but not so after reading the 100+ short stories on the subject matter. What you soon discover that some of the elements are universal and that also the influence of Asia has been used, and in some cases stolen, in Western media. This collection spans centuries of ghost stories.
Owning and reading one of the Flame Tree Press short story collections is an event. Presented in hardback with a wonderful cover, you get over 400 pages of short stories in small print. There is a lot of content contained within. You are going to want to have an interest in the subject matter before setting off. I have always liked a ghost tale and because the continent of Asia is so diverse, the tales on here differ a lot. There will be something for fans of every type of horror subgenre from the spooky to the gory.
You have your traditional stories written in the in the 17th century and translated for a modern audience. There are a series of short tales from the likes of Pu Songling. These feel like stories that would have been told around the fire or in the theatre of the age to both spook the audience and teach them a lesson. There is a reason that you should not venture into the woods alone. Not because of the ghosts, but the bears. Any way of stopping a child walking off helps. These older stories are interesting and often very punchy. I learned that a lot of motivation for men at the time was being hit by a broom and chased off. This happens in more than one of the stories.
To a modern reader, the past can feel like the past, but there is a major difference in styles of the 17th century and the turn of the 20th century. We would consider this the Late Victorian period into the dawn of the Great War. For me, it is one of the peak periods of ghost stories. Death was ever present in people's minds and the stories reflected this. This is shown to be the case in Asia at the time too as some of my favourite stories in the book come from the likes of S. Mukerji and Richard Gordon Smith. These stories show the sheer diversity that Flame Tree have in the book. People who you may consider native to the land and others who have moved there and have been influenced. A period of British Imperialism reflected in ghost stories. A wonderful taste of history imbued in the book.
Flame Tree have also gone out of their way to include modern stories, some first published here. I do hope that in these cases the authors get their tales in a smaller journal to allow them more space to shine. Notes on a Haunted Patient by T. M. Huree and Ghost by Karen Tay stood out and once again highlight the sheer range that encompasses all Asian ghost stories. Modern writers from Asia, but also whose roots come from there.
With so many stories that range from hundreds of years old to months, Asian Ghost Short Stories is an academic exercise and would be enjoyed most by those that like history and context in their collections. The stories are provided in surname order which gives the book a stop and start feel. You could get a modern story, then a Victorian and then twelve mid 16th century fables. A more blended and curated approach would have made the book feel more balanced.
The sheer weight of tales means that there is something inside that every fan of ghost stories and horror will enjoy. If you do not like one story, wait until the next writer turns up. I fear that some of the stories get lost and that the concept of all Asian ghost stories has proved too much to handle. Just think how many people and countries that is; centuries of history and stories. Flame Tree should be commended for formulating a book that houses so many interesting stories and for a serious fan of meaty tomes, this would make a wonderful winter gift for them to snuggle down to and immerse themselves.
You may also like