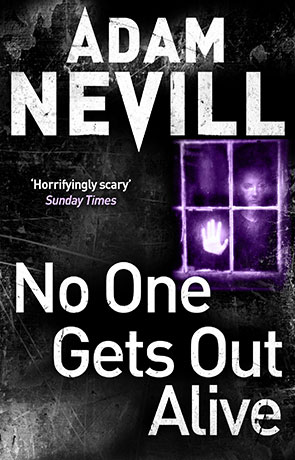 Book details
No One Gets Out Alive

Publisher:

ISBN:

978-1447240907

Published:

October 2014

Pages:

320

Format reviewed:

Paperback

Review date:

22/01/2015

Language:

English

Age Range:

18-
Ok it's fair to say I struggled with this book a lot more than I expected to. Promise of an English Stephen King, was lapped up by yours truly, a self-confessed King fan, add on to that the fact I'm English myself and I had a book on my hands I just had to read.
The promise was far more than the actual delivery. The start of the book was filled with more descriptive text than was absolutely necessary, indeed it was so much at times that I forgot that I was reading a fiction novel and thought I was reading a travel brochure.
However I persevered, and continued reading and I did start to enjoy the book. Admittedly it did seem a little naive at times, and not starkly original, but scary enough with voices under the floorboards, unseen people and one of the most obnoxious characters I have ever met in Knacker.
In fact Knacker was probably one of the few characters that kept the story together, without him I would have given up.
The story moves from traditional horror to mainstream thriller, back to horror and back again, so much so that my head was spinning with confusion about the actual genre of the book. Sorry Adam but if this was an intentional ploy to use it didn't do anything for me. I don't mind crossing genres in books but this didn't work for me. Summed up the story tells us of a girl named Stephanie, left home due to differences with her step mother, down on her luck and forced to work, temporary dead end jobs to earn enough to pay the rent so she didn't have to return home. She stumbles across 82 Edghill Road and the promise of very cheap rent for girls only. The house is disgusting, but left with little choice she moves in. The first night she hears voices from under the floor and behind the fireplace in her room. She hears other girls who live in the house on the stairs, but when she calls out to them they disappear into their rooms. The story moves on to becoming about forced prostitution and female captivity. There is something else at work though in Edghill Road, the Black Maggie, as old as time itself. It is only as Stephanie escapes the house and sets up with a new life, a new identity, that she realises some horrors you just can't escape.
Moderate rating three out of five stars. Being generous down to book length more than anything. The book would do well as a straight to DVD movie.
Written on 22nd January 2015 by Arron .
You may also like