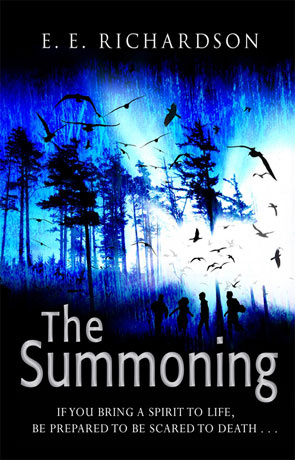 Book details
The Summoning

Publisher:

ISBN:

9780370328874

Published:

April 2007

Pages:

320

Format reviewed:

Paperback

Review date:

12/07/2013

Language:

English

Age Range:

N/A
When I first picked this book up I thought, this seems a bit amateurish. Further reading and I understood why. It is a novel aimed for young adults. With this in mind I began to look at the novel in a new light. I cast off my misgivings and settled down to enjoy the story for what it was.
Not entirely original, the story follows four young people trapped under the weight of a magick ritual gone wrong. Justin the protagonist found an old book of shadows in his grandfather's house and in the aim to embarrass and scare another pupil at his school he invites him along to witness him perform some real magick in the hope to make him realise there is more to life than textbooks and snobbery.
He enlists the help of his best friend and sister and together the four of them manage to summon a demon named Dracherion, who because of the teenagers lack of experience, manages to escape from the circle and pull them into a world of doubt and paranoia. Dracherion has told them that he will possess one of them and use the body to destroy the others and establish his place in our world. What then follows is a fantastic piece of paranoia writing aimed at young adults that quite simply amazed me. Well done E. E. Richardson.
The ending of the novel was quite straightforward and predictable as was most of the plot elements. E.E.Richardson has garnered some praise with some of her other works such as The Devil's Footsteps and Intruders so there is talent there to be spotted. Just remember who the book is aimed for if you ever decide to give this book a try.
Written on 12th July 2013 by Arron .
You may also like