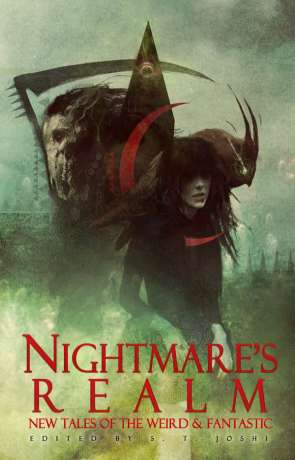 Book details
Nightmares Realm: New Tales of The Weird and Fantastic

Publisher:

ISBN:

n/a

Published:

November 2016

Pages:

144

Format reviewed:

Paperback

Review date:

07/12/2016

Language:

English
"Life is but a dream" wrote Calderon De La Barca and "All that we see or seem is but a dream within a dream" confirmed Edgard Allan Poe. Dreams and nightmares constitute part of our nightly life, but they usually vanish as soon as we wake up. Sometimes, however, they stay with us and haunt also our normal, daily existence.
The present collection assembles seventeen new tales by contemporary authors addessing that fascinating issue. The list of the distinguished contributors includes John Shirley,Richard Gavin,Steve Rasnic Tem,John Langan, Darrell Schweitzer, Nancy Kilpatrick, Jason V Brock, Caitlín R Kiernan, WH Pugmire, Gemma Files, Jonathan Thomas.
They all provide good, interesting tales, but,in my opinion, as a reviewer,the more accomplished stories are the ones below.
Ramsey Campbell's "The Dreamed" is a kafkaesque nightmare featuring a tourist trying to save his lost identity while vacationing in a Greek island.
"Beneath the Veil" by David Barker is a disturbing piece, set between dream and reality, where a man wonders about the real face and nature of his bride-to-be, while "The Fifth Stone" by Simon Strantzas is a dark fantasy story describing how a woman's life gets deeply influenced by some mysterious and powerful stones found when she was just a little girl.
In the superb, claustrophobic " In the City of Sharp Edges" by Stephen Woodworth a blind man's nightmare opens the gateway to our world to an unearthly creature, while in the excellent "An Actor's Nightmare" by Reggie Oliver a mediocre actor gets caught in a downward spiral that will transform his life in an unexpected way.
My favourite tale in the volume is the outstanding "The Art of Memory" by Donald Tyson, in which a KIng's College student endevouring to improve his Greek by means of unconventional methods discovers terrible secrets about his family and his childhood.
Written on 7th December 2016 by Mario Guslandi.
You may also like