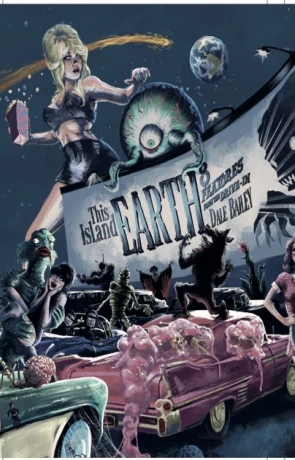 Book details
This Island Earth

ISBN:

978-1-78636-816-4

Published:

April 2023

Pages:

Format reviewed:

Hardback

Review date:

20/06/2023

Language:

English
Here's an unusual collection inspired by the heroes of the drive-in, featuring eight novellas suspended between science fiction and horror. The enthusiasm of the author for that type of movie is quite apparent and has produced a bunch of fine fiction finally collected in one volume.
Bailey is an excellent writer, so much so that, although not particularly interested in that specific genre ( or sub-genre) , I'm glad for the opportunity to read such an entertaining and enjoyable book.
In particular I'd like to mention the four delightful novellas which kept me particularly engrossed.
"I Was a Teenage Werewolf" is an excellent, tense piece of fiction set in a small town plagued by a mysterious, particularly violent werewolf ( with a nice twist in the tail).
"The Creature from the Black Lagoon'' is an insightful fantasy featuring a creature with an embarrassing body but a human heart, in love with a pretty colleague on a movie set.
Another very lovely piece is "Invasion of the Saucer- Men", a smart mix between a cautionary tale about human stupidity and a warning on our inability to understand what we don't know.
"The Ghoul Goes West" is an unforgettable story about movies which could not exist yet appear to be real, with a touching homage to the likes of Bela Lugosi and Ed Wood.
Have fun!
Written on 20th June 2023 by Mario Guslandi.
You may also like