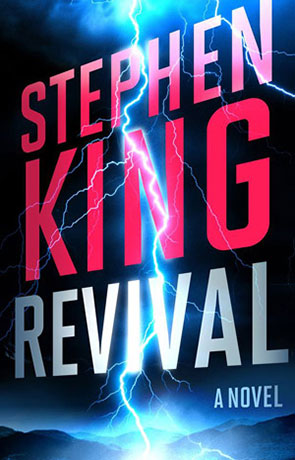 Book details
Revival

Publisher:

ISBN:

978-1444789171

Published:

November 2014

Pages:

384

Format reviewed:

Hardback

Review date:

19/12/2014

Language:

English

Age Range:

18-
About the author
Now this is the Stephen King that I fell in love with seventeen years ago when I read The Shining. Since then, I have read most of what King has written. Not until Revival did I get that feeling that I last had over a decade ago when I read The Talisman, which also featured Peter Straub.
Revival is a story that plays on the notion that our lives are either by design or just merely a product of coincidence. With gifted ease, King interweaves the lives of a young boy turned musician turned drug addict with the life of a minister turned magician turned evangelical faith healer, spanning six decades—1962 to 2014. Reality and the supernatural have never been amalgamated and stirred this fresh before! Revival had the same affect on me as drinking a fresh Coca-Cola out of a glass bottle. The characters and setting were satisfying, recreating an era of American suburban history before my time. The story was smoothly paced and divided into three well-constructed acts, each portraying the "fate" or "coincidence" of the lives of Jamie, the protagonist, and Charles, the minister/magician.
With writing this good, it is easy to accept the pseudo-science that drives the supernatural element of the story: secret electricity that does more than simply heal the body. Charles' secret electricity reminded me—as I neared the end of the novel—of something out of a 1950s mad-scientist movie. Yet, the horrors that it unleashes is balanced with the good that it does. Or do they balance?
Revival exposes an ethical and religious dilemma that leaves a lasting impression on the reader.
If you love King, read this. If you love good character development and are nostalgic of the 1960s, 70s, 80s, etc… then by all means, read it.
This is the Stephen King that most of his fans fell in love with! Including me.
You may also like