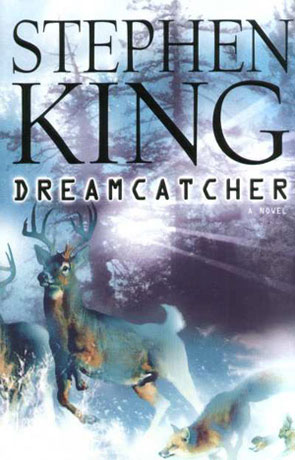 Book details
Dreamcatcher

Publisher:

ISBN:

Published:

Pages:

704

Format reviewed:

Paperback

Review date:

01/04/2001

Language:

English
About the author
Dreamcatcher is a horror novel by Stephen King.

This is the first novel from King since his accident and as that eagerly awaited - did he damage more than his hip? Would all his stories from now on be stuffed with references to his own accident and the horror that is recovery? Or even worse; retelling after self pitting retelling of the accident in the holy name of mental selfhealing a lá Oprah. King freely admits that Dreamcatcher was written during his recovery period and that it was used as therapy. Lots of questions, now on with the answers...

Yes, one of the lead characters are run over in Dreamcatcher. But it's well done, there's no unnecessary wallowing in it and it is as tastefully done as something like that can be. And that's basically it. So, where do the writing as therapy come into the picture? Well, I guess that King means it quite literally when he says that he used writing as therapy, and actually speaks of the pen against paper thing in it self. Which in interesting, because he actually used a pen and paper to write the first draft of Dreamcatcher. If you write regularly, try writing the first draft on paper next time, I assure you, that you'll write differently from how you normally write (I'm assuming that you are normally using a keyboard). There is something special about the pen on paper, that changes the way you write. I'm not sure whether it the missing backspace button, which forces you to think before you write, the fact that you never hit the wrong key when you write by hand or something else, but different it is.

In the case of Dreamcatcher it's different in a good way. I've long felt that the thing King really needed was a heavy handed editor who wasn't afraid to stand up to King and tell him how to edit his stories - preferably by removing lots and lots of, in my opinion, unnecessarily paragraphs. But when you are re-negotiating contract with the best selling author in the world, my bet is that you shut up and put up and count your self lucky, even if it's a copy of the Derry telephone directory, with the words "Derry Local Directory" crossed out and "New Novel By Stephen King" written in crayon. The rather demanding process of writing by hand (compared with a keyboard), seems to have done a lot towards getting King to do a bit if that editing himself. Not only that, but the sentences seem tighter, than what we have seen from King in a long time (if ever). All in all; there is lots of good writing is to be found in Dreamcatcher.

Four guys from Derry grows up together with and around a fifth guy, who has not only Downs syndrome, but as so "sees the line". They are young, they are carefree and they have their finest hour. They grow up, they move away (as people from Derry has a tendency to) and they nearly forget the guy who stayed behind. Except once a year where they (the four of them) meet for a week, for a bit of hunting and a lot of story swapping, only this year they get a guest. From a long way away. The rest of the story is kind of a mix of your basic Close Encounters, the Exorcist, the evilest conspiracy story you ever read and Marlon Brando in Apocalypse Now.

Entertaining, funny, well written and a true page turner. Welcome back Stephen!
Written on 1st April 2001 by TC .
You may also like