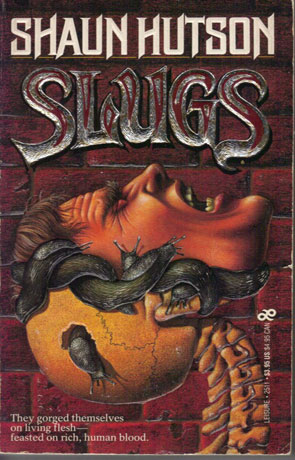 Book details
Slugs

Publisher:

ISBN:

Published:

Pages:

Format reviewed:

Paperback

Review date:

25/10/2013

Language:

English

Age Range:

N/A
About the author
Ok so we all know who Shaun Hutson is, and asked to name some of his works then Slugs is more than likely to be in the answer bank, most people probably know that it was even his first novel. What they may not know however, unless they have read up on the guy is that he is a die-hard Iron Maiden fan and Liverpool fan. Now Liverpool aside, if you didn't know those facts then you could never have read a Hutson book.
The amount of references in there is unbelievable and I'm sorry Shaun, very corny. Yes it was your first book so some allowances could be made, sure. But thirty years on it just really shows his naivety and comes across as, "Look at me, I'm a Maiden fan and I can prove it by adding content to my book that metal fans across the country will get". I'm sure Shaun does/did have a lot of metal fans as his fan base, I for one growing up certainly did swallow a lot of his work, owning every book up until around the mid 90's of White Ghost and Lucy's Child but then I kind of grew up and the gore and erotica lost its edge for me and became just another book in his catalog.
At the beginning of his career though that is one thing that made him stand out from the crowd and there aren't many people who could pick up one of his early novels without having to put it down due to the graphic descriptions in there. Slugs doesn't quite live up to that but the potential is there to be seen. The story basically runs in the same way of Herbert's first novel, The Rats in that there are thousands of large hybrid killer slugs with a taste for human flesh.
I kind of get the feeling with this book in fact that it is either a homage to The Rats made modern or his way of trying to imitate Herbert but make the sex scenes hotter and harder and the gore much more graphic. He does achieve both but the story and style that Herbert had is definitely missing. It was the sex and gore that sold Hutson's work though, becoming known as the Grandmaster of Gore over time. A sequel to the book was spawned entitled Breeding Ground, which came out three years later. Altogether not a bad novel at all, very early days for the author and maybe now, with a host of gore filled movies to choose from I think somebody who hasn't read that type of novel but enjoys them kind of films would really like this book and the author. Don't expect too much in terms of plot and killer twists. What you see with Hutson is what you get. Exactly as it says on the tin.
Written on 25th October 2013 by Arron .
You may also like