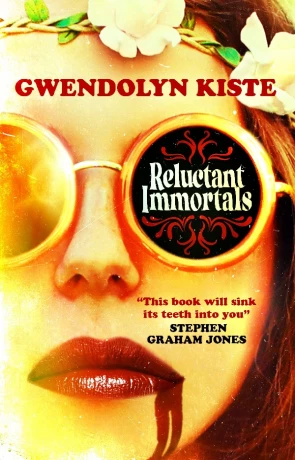 Book details
Reluctant Immortals

ISBN:

9781982172350

Published:

November 2022

Pages:

282

Format reviewed:

Paperback

Review date:

16/11/2022

Language:

English
Classic stories leaving copyright has been a boon to modern authors who are suddenly able to play with much loved characters as they wish. The mash up is not unusual when two contemporary characters suddenly meet, but often these books are set at the same time as the original text. What would happen if classic characters met a century or more later, in a hip and swinging 60s LA? Gwendolyn Kiste explores what may have happened to some of the forgotten women of classic fiction in Reluctant Immortals and who they may have brought with them.
You may not have heard of Lucy Westenra or Bertha Mason, but they both played important roles in classic stories. Lucy was a victim of Dracula and Bea of Mr Rochester. Rather than stay dead, they became immortal, fleeing to America for a new life. Decades later in LA, the past still haunts them. Lucy has the hunger bestowed from her former master, as well as his remains contained within cursed urns. Bea hears Rochester's whispers on the wind. They have managed to stay hidden for so long, but 1967 is the year that the urns begin to break. The summer of love is about to become the summer of death.
My idea of a classic work of fiction goes back to the 1950s at most and I have never read the true old classics like Dracula or Jane Eyre. However, this does not detract from the characters within the pages of Reluctant as the tales are timeless, appearing on TV and film many times. In fact, not knowing who Lucy and Bea plays into the narrative. They are the first to admit that they have been washed from the tales based on their lives. Seen either as a mad woman in one quick scene, or as a maiden of folly. We meet them again in 1967 and they are quite different.
Both women are immortal; one a vampire, the other sustained by a strange curse. They stay together to survive, but also because they depend on one another. They go out at night to the same drive thru movie theatre just to keep a balance in their life. When we meet them, you feel that they are not happy, but at least content with their lot. Things start to change when Jane arrives on the scene and the first of Dracula's urns is broken.
This is a novel of terror. The terror that women can live under when the wrong type of man chooses to dominate them. Lucy has managed to trap Dracula for over 70 years, but he is always on the brink of escape. Bea is plagued by Rochester and the cruelty he showed her in life. If these two arrogant men return and find the duo, will they make their afterlife hell too?
The book is about feeling hopeless, but it is also about strength. The friendship and bond between these two women is strong. Along with other allies they begin to consider an alternative to fear. A chance to fight back and make their own lives. Kiste explores the concepts of both physical and mental abuse brilliantly through the prism of Urban Horror.
There is so much rich subtext in Reluctant that you can get lost in it, but by setting the book in the 1960s Kiste has given the story that extra layer. The time of flower power and the ultimate San Francisco summer of love is nothing like the historic setting the characters derived from. Kiste recreates the period well, not the day glo, dreamlike perception people have, but the reality. Young people crammed into houses together living one step up from being on the streets.
Reluctant may be set in the sun-drenched cities of LA and San Fran, but Kiste brings the gothic feel of both Dracula and Jane Eyre with the characters of Lucy and Bea. This is modern gothic with a period setting. It is not body horror or shocking, but a horror that will feel far more real to some. The horror or feeling powerless in a relationship, or the abuse from a partner. Some parts of the book may be hard going, but the conclusion is one of empowerment.
You may also like