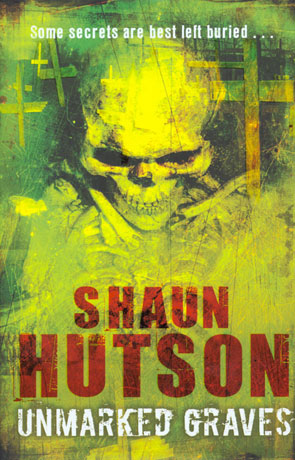 Book details
Unmarked Graves

Publisher:

ISBN:

9781841494364

Published:

August 2007

Pages:

352

Format reviewed:

Paperback

Review date:

22/05/2012

Language:

English

Age Range:

N/A
About the author
Review by Arron Clegg. Shaun Hutson. For fans of horror he is the master of all that is gory in the world of horror novels and has been for some time now. His roots however give more than a passing nod to a compatriot of his Mr. Herbert. Unmarked Graves shows exactly what Shaun does well. He takes you on a roller coaster ride from the dark continent of Africa to the shores of England. He straps you into the cabin, spins you around, tips you upside down, hurtles you through a visceral tunnel and into the mouth of hell and then when you feel you can't take anymore he throws you back out again. You breathe a sigh of relief, which soon fades as you realise, like most rollercoaster's, there is always more than once around the track, and it's off again.
The book reads a lot between grisly horror and action movie style plot. There are a couple of niggles though, he does tend to use the same similes and repeats himself on a couple of occasions, which make a you wince, but if it wasn't for the fact that it was a fast page turner of a ride you wouldn't really notice these. Shaun knows how to tantalise readers, each chapter ending in an almost cliff-hanger style page, forcing you to turn and start the next page, the next chapter. Unlike so many other authors, the next chapter rarely jumps scene, taking you to another plot line or another character. It's typically straight back into the action again, and so the roller coaster builds up speed.
This story has lots of classic horror elements along with a modern twist on what we see as evil today. We have voodoo, desecrated graves, corpses which come back alive and the old family favourite, racism. It is a story of a man from Africa who after fleeing the country lands in England and after discovering the town he lives in is a bubbling cauldron of racial tension sets about using his voodoo to set things straight for his fellow countrymen who also reside there. Detectives and investigative reporter Pearson are hot on his trails. With an ending with more than a hint of The Wicker Man about it, this is a book any new reader of Hutson would find engaging and on the lookout for more.
Written on 22nd May 2012 by Arron .
You may also like