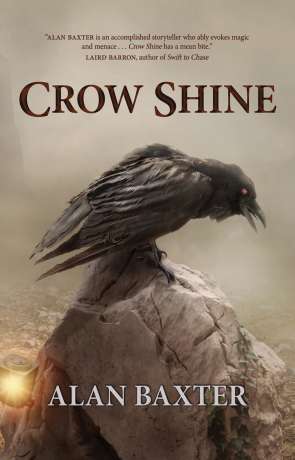 Book details
Crow Shine

Publisher:

Ticonderoga Publications

ISBN:

978-1925212402

Published:

November 2016

Pages:

298

Format reviewed:

E-Book

Review date:

24/02/2017

Language:

English
A well respected novelist, Australian writer Alan Baxter is also the author of many short stories, appeared in various venues, but never before assembled in a single volume.
Crow Shine is a massive collection of Baxter's dark tales which will pleasantly surprise the reader not yet acquainted with this excellent author.
The large majority of the stories included therein are original,well crafted pieces of disturbing fiction.
"TIny Lives" is a beautiful tale full of sad lyricism where a toymaker endowed with a peculiar gift gives his own life to provide a cure for his sick daughter, while " In the Name of the Father" is a nasty piece featuring a priest whose mission is totally unconventional for a man of the cloth.
In the nightmarish " A Strong Urge to Fly" a young man running away from an oppressive mother ends up in the hands of a bossy landlady and in the gloomy "Punishment of the Sun" supernatural violence hits an isolated farm in the middle of Australian nowhere.
In "The Chart of the Vagrant Mariner", a vivid piece of adventure and horror, greed and delusion bring about tragedy and death, while in the epic "The Darkest Shade of Grey" a séance opens the way to a chain of dark events of cosmic horror.
"Reaching for Ruins" is an effective tale of botanical horror; "Mephisto" a very short but deeply disquieting story revealing the terrible truth hidden behind a magician's stage trick.
My two favourite stories feature women possessing extraordinary qualities. "Shadows of the Lonely Dead" masterfully portrays a nurse working in a hospice whose daily experience of death gives her an unexpected power; the melancholy " The Old Magic" depicts the rich,yet lonely, endless life of a witch surviving througout the centuries, doomed to lose lovers,husbands and sons succumbing to death. Those two stories alone, standing examples of Baxter's great storytelling ability, are worth the price of a collection full of excellent, quite accomplished tales.
Written on 24th February 2017 by Mario Guslandi.
You may also like