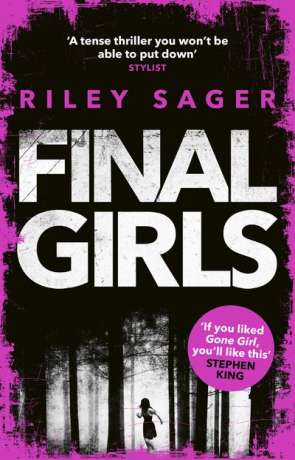 Book details
Final Girls

Publisher:

ISBN:

978-1785034046

Published:

January 2018

Pages:

352

Format reviewed:

Paperback

Review date:

26/03/2018

Language:

English
Final Girls asks the question what happens after the horror film has ended. How does the fastest and smartest girl cope after the horror ends?
Quincy Carpenter went on vacation with her student friends 10 years ago. She was the only one to return, surviving a horror film level massacre. On doing so she automatically became a member of an exclusive club, the Final Girls. She joins Lisa - survivor of a knife weilding maniac who killed 9 of her soriority sister, and Sam the only person left alive after an encounter with the legendary Sack Man.
Ten years later and Quincy seems to have her life in order. She has a fiance, a popular food blog and the support of Coop - the cop who saved her life all those years ago. Then Lisa, the first Final Girl, dies and Sam and Quincy find themselves once more in the media spotlight.
Final Girls (not to be confused with the film The Final Girls) is outstanding. It blends elements of horror and murder mystery into the style of a thriller and keeps the reader on their toes, dropping story breadcrumbs bit by bit. It's intense, gripping fiction that draws you into Quincy's world and makes you think you've figured out just who the killer is before making a big switch and making you think again. When it was released in hardback last year (I'm reviewing the newly released paperback) Stephen King said it was the "first great thriller of 2017". He wasn't wrong.
The story moves between the present day and the fateful night when Quincy became a final girl. This breaks up the pace nicely and allows the reader to slowly build up a picture of how what happened then ties in with whats happening now. It's imaginitive, convincing, the pacing spot on and the characters nicely coloured in shades of grey. The tone is also perfectly judged, dark and almost claustrophobic in places which builds into palable tension at the right moments.
Final Girls is one of those books that you simply cannot put down, it's clever, consuming fiction with a plot that has more twists than a tornado. Unmissable fiction.
Written on 26th March 2018 by Ant .
You may also like