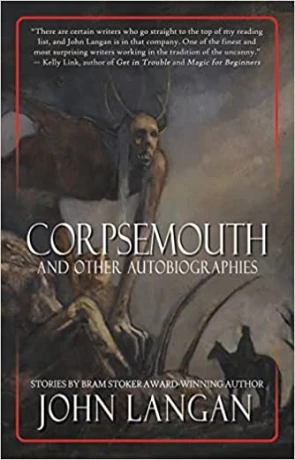 Book details
Corpsemouth and Other Autobiographies

ISBN:

978-1956252019

Published:

July 2022

Pages:

310

Format reviewed:

Paperback

Review date:

13/10/2022

Language:

English
The latest collection by John Langan assembles eleven stories (but considering their lengths I'd rather call them novelettes or, in some instances, novellas), ten of which previously appeared in various anthologies.
The overall impression I've got from the book confirms my feelings about some of his previous collections, namely that Langan is an author who can either produce some great horror fiction - (especially when he remains in control of his overflowing prose and sticks to the main theme of the story) or spoil a potentially good plot by diluting it with a superfluous amount of personal (true?) memories and recollections.
A typical example of the latter is "Anchor", which begins as a very fine story depicting the events taking place in a man's life with the passing of the years. All is well with the first half of the novella, which then starts to become overlong, implausible and downright boring (at least to me). What a pity!
On the bright side, the book includes some magnificent pieces.
"Homemade Monsters" is an enticing story describing the disturbing childhood's memories of a man still saving a Godzilla head as a memento and a lucky charm.
"The Open Mouth of Charybdis" revolving around a Gauguin's picture and incorporating Lovecraftian echoes of the Innsmouth myths, is a mesmerizing melting pot apt to deeply disquiet the reader.
In the excellent " What is Lost, What is Given Away" a class reunion is the occasion to switch on old memories from the high school days, bringing about the development of new tragedies.
"Caoineadh" (the only story original to this collection) is yet another fascinating medley of family stories with a mild horrific undercurrent, where actually the real horror which dominates the narration is that of war.
Once again, finishing a Langan collection leaves me both with a bittersweet taste and with the desire for more. I'll be waiting for the next one.
Written on 13th October 2022 by Mario Guslandi.
You may also like