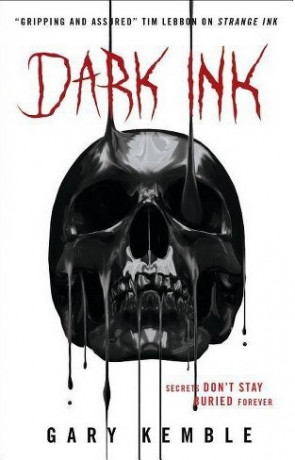 Book details
Dark Ink

Publisher:

ISBN:

978-1785656453

Published:

October 2019

Pages:

304

Format reviewed:

Paperback

Review date:

21/09/2019

Language:

English
About the author
People have power over on another. Someone who is charismatic may be able to manipulate others to do their bidding even against their own best interests. The opposite sex can also have power. What would you do to be with the partner you love/lust for? Mistress Hel is a Dominatrix who specialises in controlling men. Her clients pay to be ridiculed, but how far can she push someone? Dark Ink by Gary Kemble explores the idea that perhaps this control is not of this world. Where does the appetites of a man end and magic begin?
After the events of Strange Ink, Harry Hendrick is no longer a journalist for the local paper. His encounter with a corrupt politician and unsettled spirit has left him with a new reputation; bold freelance reporter, who may be a little odd. With this in mind, Harry is tasked with aiding the police. They are stumped by a series of seemingly random suicides. Why would these perfectly happy men decide to shoot themselves or even eat glass? Harry soon discovers that foul play may be involved. With his new found knowledge of the arcane, he is not going to dismiss the idea of black magic.
Following a debut like Strange Ink was never going to be an easy task for Kemble as it could easily have been construed as a pacey standalone thriller. However, having an investigative journalist as the protagonist means that the series has a natural follow on – what does Harry do next? Enter Dark Ink, the second in a possible series of crime investigations with a supernatural slant. At the centre we have a hero who has already been the victim of magic once. He has no choice but to believe the unreal.
The book works well because Kemble is able to set a lovely tone. This is a horror/fantasy book that is all about today. There is no high magic, only the dark and dank stuff that hides in the alley. You could believe that an underbelly like the one found in Dark Ink exists, because no one wants to see it. Harry works brilliantly as the central character as he is flawed, but also a very talented researcher. His role of freelance reporter gives the book a Private Eye feel as several of his stories start to blend into one conspiracy.
Like most horror books, this is not for children, but even more so than the first outing – this is rated mature. There are elements of violence and body horror, but here the added sexual horror too. Mistress Hel is a seductress, but also a manipulator. The book is at its best when you are guessing if she is just a brilliant reader of weak men or if she has help from somewhere else. A large part of the book plays off the dynamic between Harry and Mistress Hel. It is lurid and seedy, but when it comes down to it, thrilling. As a reader you feel real fear for Harry, more in a thriller sense than h000orror.
The Ink series of books feels like they are maturing into something wonderful. They take the idea of the modern Urban Fantasy books and makes them grimy. The setup is designed to allow Harry to continue to investigate new cases each book. Here, he is less the victim than the first book, but he still plays a central role in the actual case. It would be nice for Harry to stand to the side and observe more next time as his body will struggle to take much more trauma. Getting personal is one thing, being personally killed is another. I am certainly looking forward to what darkness Harry may stumble across next in the sunshine of Australia.
Written on 21st September 2019 by Sam Tyler .
You may also like