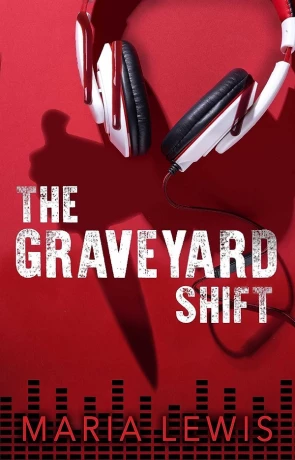 Book details
The Graveyard Shift

ISBN:

9781915523068

Published:

September 2023

Pages:

317

Format reviewed:

Review date:

26/09/2023

Language:

English
I love listening to the radio, but even I struggle when it gets late at night. Suddenly the airwaves are packed with novelty DJs using all their shtick to 'entertain' the few remaining listeners. It is even worse if you live in London, when the light fades the pirate radios stations come out to play. The bandwidth is full of the latest beats from someone's front room. I cannot listen to any of it, but what if you thought that you heard a murder during a phone in? The Graveyard Shift by Maria Lewis has a DJ who is not just dealing with late night weirdos, but late-night murderers.
The late night to early morning shift was never Tinsel Munroe's end goal, but a foot in the door. It turns out that she is good at entertaining the creatures of the night with her mix of phone in show and alternative music. One Halloween things starts off just as strange as normal, but one call feels a little too real. A prank call in which the caller is murdered live on air, but when Tinsel sees the news the next day, it was anything but a prank, and the killer may just be her biggest fan.
Centring a crime story on a late-night radio show is a great idea by Lewis, there is a vulnerability to being one of only two or three people in a building in the middle of the night. Tinsel takes it upon herself, with the help of her determined sister, to discover who the killer is. In the meantime, she is still presenting a nightly show. There is a vulnerability to Tinsel's situation, but a strength to her character. This is in her personality, but also in the family that she has and the friends that she keeps.
No matter how strong Tinsel feels, she is in real danger. Lewis heralds Craven and Carpenter as influences for the book and it has that slasher feel. It is a crime procedural story that fans of crime will enjoy, but it also has vignettes that remind you of the chase scenes in Scream. That high octane, heart pumping terror as a killer chases you with a knife. The book combines horror and crime to excellent effect.
For a slasher to work, you are going to have to emphasise with the Final Girl. Tinsel is a perfect modern foil. She is not an innocent babe in arms, but a woman in her 20s who has made mistake and is trying to further her career. Lewis rounds out the character by introducing her family and her lover/s. The written format gives the reader a chance to know the protagonist in depth. Tinsel feels like the rounded woman within one book that took Syndey several Scream films to get to.
There are several vignettes that follow the various victims, but the bulk of the book focuses on Tinsel, her work, and her love life. As the book progresses, she becomes more invested in finding the killer. There is a solid crime element to the book that means it is not just a piece of slasher fiction. I loved the fact that Lewis has been able to combine two of my favourite genres by producing some great high energy slasher fiction, but also produce a coherent and intelligent crime story. The book can be read as a standalone, but Tinsel finds herself in such an interesting place, that I would be happy to read more mysteries with this character.
Written on 26th September 2023 by Sam Tyler .
You may also like