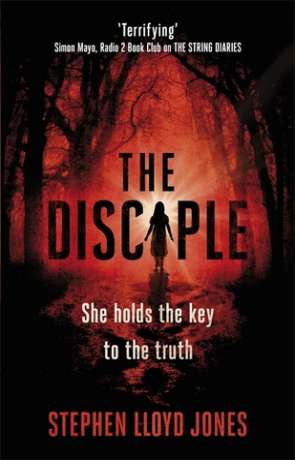 Book details
The Disciple

Publisher:

ISBN:

978-1472228901

Published:

October 2016

Pages:

544

Format reviewed:

Paperback

Review date:

31/10/2016

Language:

English

Age Range:

18-
About the author
Given that today is Halloween, I thought it only right that we review a horror novel. It's also a damn good one - The Disciple by Stephen Lloyd Jones.
It all starts on a stormy night as Edward Schwinn navigates the country roads at the edge of Devil's Kitchen, Snowdonia. On a dark road in the middle of a forest he finds a scene of devastation. Cars wrecked and on fire, bodies everywhere, but in one a heavily pregnant woman still alive.
The woman gives birth to a girl who should have never lived and is murdered right after. The childs protection lies in the hands of Edward. Such protection will not be easy however as they are being hunted by an evil beyond measure.
It is said her arrival will trigger a chain of terrifying events that no one can explain. When her potential within is finally realised, nothing will be the same.
The first thing that really strikes you about The Disciple is that you are thrown right in at the deep end. It's not clear who are the good guys and who the bad (excepting Edward who is clearly an innocent party). The Child Piper could be a saviour or destroyer and those after her, who knows?
As the story progresses the ambiguity of who is good or bad remains, although the details of the players in this game do become clearer - as does Piper's role as she begins to understand her powers.
Part of the books draw is finding out just what is going on and the author does an admirable job of imparting just enough information at just the right times. I love the fact that both sides consider themselves right and doing what they do for the good of humanity. It's up to the reader to judge.
The story feels like a thriller with horror elements with pacing to match, the author managing to create an almost tangiable feeling of suspense - centred around Piper and Edward - that builds as the plot unfolds. The plot itself is original, clever and unpredictable but more importantly, involving and, at times, nail-biting.
The Disciple transfixed me from beginning to end. It's got plenty of action with a thrilling and dynamic story that blends the pace and style of a thriller with elements of horror and supernatural. Original, suspenseful, entertaining fiction.
Written on 31st October 2016 by Ant .
You may also like