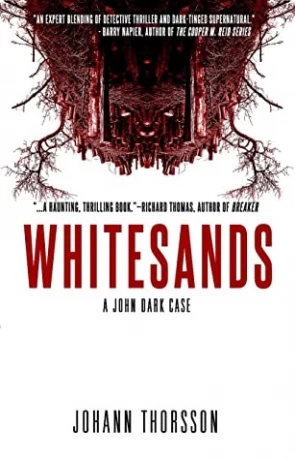 Book details
Whitesands

Series:

John Dark

Publisher:

Headshot Books

ISBN:

9781947522435

Published:

September 2021

Pages:

310

Format reviewed:

Paperback

Review date:

16/12/2021

Language:

English
Books in the series
The fictional detective always seems to have some flaw that follows them through life preventing them from being happy or doing their best work. This could be drink, gambling, or drugs. In the case of Johann Thorsson's Detective John Dark it is far worse, a missing daughter. For two years he has abused the department's resources looking for her, but she is still missing. Dark and his partner have been side lined, until now. A murder has happened in an uptown location, the husband stabbing his wife and dressing the body in a peculiar manner. Seems an open and shut case, but Dark has a feeling that the suspect is telling the truth when he says he did not do it, so what did?
I used to read a lot of crime fiction but found that too much in a row began to feel generic. In Whitesands, Thorsson adds supernatural elements that complement the noir wonderfully. As a crime book, it is already particularly good. All the right ingredients are there, the troubled detective, the writing style, and a mystery that unfolds in stages. What is new is who the killer may be. When two murders occur in a similar fashion just days apart, is it some sort of murder club or another being getting involved?
The horror elements of the book work so well because they are treated with the same tone as the noir, just because something supernatural is happening, does not mean people believe it. Even Dark himself is not a believer. The evidence in front of the Detective makes no sense, so he would rather imagine an elaborate conspiracy than a supernatural killer. It is not until the book progresses that he starts to at least follow the evidence. With his reputation already damaged at the department the book is very tense as Dark must walk a tightrope of trying to save lives, but also make people believe what he is saying.
There is a parallel story of Daniel Hope, programmer, and schizophrenic. At first you are unsure where is element of the narrative is going, but as it progresses Hope becomes a conduit between the natural and the supernatural. The theme of untrustworthy protagonists continues as Hope's diagnosis means he is not believed, not even by Detective Dark. The central themes of the crime noir bleed into the horror elements – trust no one and life is tough.
Whitesands is a book that will entertain both the crime noir and the supernatural fan. It has the dark tones that are popular in Nordic Noir and these fit perfectly with the ghostly elements of the book. By adding the unknown, the book is lifted from being just another serial killer treating their victims in a cruel and unusual way into something more interesting. What is truly going on and how are these people being murdered? Like Dark, we do not know get to know until more is revealed. How the story unfolds is different from the norm and that makes it highly entertaining.
You may also like