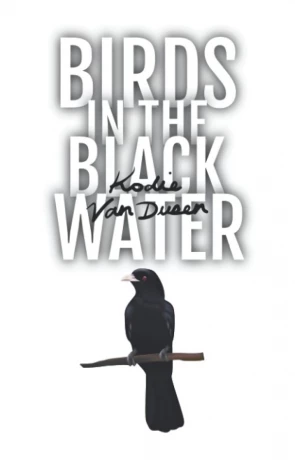 Book details
Birds in the Black Water

Publisher:

Big Cheese Books

ISBN:

9781778227103

Published:

September 2022

Pages:

381

Format reviewed:

Paperback

Review date:

21/11/2022

Language:

English
The mind is a powerful tool. It can make a person do spectacular things but can also be their undoing. A trauma earlier in life can impact your day to day living. Perhaps talking to someone would help, be it a friend or a professional? Neviah is a counsellor who has a unique way of unpicking people's deeply rooted trauma. In Birds in the Black Water by Kodie Van Dusen, she takes people into the Other Side to tackle the shadowy creatures that live there, but before she deals with other's problems, should she not look to herself first? The Other Side can be an unforgiving place if you cannot forgive yourself.
Neviah and her partner Ezra have moved to a farm. Neviah has continued to treat patients and the farm has become a community where her patients often stay. One patient is Martha, one of Neviah's very first patients, who has returned after a decade with her son Gabriel in tow. Martha has more troubles than many and blames Neviah for a lot of them. Meanwhile, Neviah is still coming to terms with her brother's suicide years earlier. When Martha reconnects with Neviah, the lines between the Other Side and our own no longer seem to stable.
Birds feels like a classic thriller about a therapist and one of their patients that you may have seen made into a Hollywood movie. The Doctor becoming too close to their patient and suffering the consequences. The book has those elements of bunny boiling, of a patient who seems fine to everyone else, but the Doc knows they are not right. As Martha begins to worm herself into the life of Neviah and Ezra, her mental health appears to improve, while Neviah's becomes worse.
This is because the book also has a supernatural element that separates it from any 90s style therapist thrillers. Neviah has access to a place that is full of creatures who are causing the mental anxiety. She can take a patient with her into the Other Side to tackle the demons together. For many years this was a fruitful course of action, but Martha is a different case. She brings out Neviah's own fears and memories of her brother.
The book is split into three parts; the first is the present as a lost boy, Gabriel, arrives at the doorstep. We learn about Neviah and Ezra's relationship as they come to terms with this young boy they must look after. Then they find Martha. Rather than continue this path, part two jumps back in time to the death of Neviah's brother and her initial relationship with Martha. This is a vital section as it informs the reader for part three. There is a lot more going on under the surface than even the reader can glean from part one. The tension, action and consequences are all ramped up towards the end, making the book an effective thriller.
As a fan of genre fiction, I read this book primarily as a thriller. The supernatural elements are present, but a lot could be read as metaphor. The work that Neviah does in the book is often traditional counselling, using her unconventional tools. The prime element that stands out is Neviah's troubled past and inability to resolve her feelings, and the thrills that Martha's presence brings to the story. I would suggest this book to fans of mild horror, but more for readers who like a thriller led by strong female characters.
You may also like