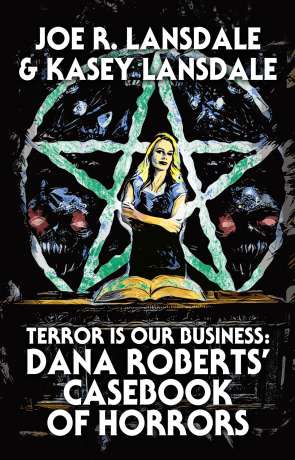 Book details
Terror is our business: Dana Roberts casebook of horrors

Publisher:

ISBN:

978-1732009004

Published:

May 2018

Pages:

248

Format reviewed:

Paperback

Review date:

02/04/2018

Language:

English
Joe R Lansdale, a prolific writer, has written in a variety of genres from westerns to graphic novels and horror stories. He's won ten Bram Stoker awards, the Edgar award, the American Horror award and the British fantasy award. Apart from his horror stories he is perhaps best known for his crime novels featuring the amateur detectives Hap & Leonard (which have recently been turned into a TV series).
He's also written some stand-out tales of the "supernormal", featuring sleuth Dana Roberts. Dana earns a living helping people rid themselves of what we would call the supernatural.
Terror is our business introduces us to Dana, collecting all of her stories, along with a couple co-written by Joe's daughter Kasey - a singer, song-writer, author, editor, actress, and producer. The book has nice introductions by the authors themselves..
The first set of stories featuring Dana are framed by an external narrator - a member of a club who invite Dana to speak about these strange events. It's an effective technique of introducing Dana's world of the supernormal. Dana calls these strange events supernormal because, despite everything that happens, she is a devout skeptic. She believes that in the same way lightening was once thought of as "magic", supernatural events must have a scientific explanation that we just haven't figured out yet.
One of the things I found so refreshing about Dana's adventures is that this isn't a skepticism that refuses to believe something otherworldly is happening, just that the explanation for that something is different to the supernatural descriptions of folklore, religion and popular media.
The stories are engaging - the author clearly a gifted storyteller - while Dana makes a rewarding, engaging protagonist. The voice reminds me of a modern lovecraft, descriptions of the weird are effective with a visual clarity while Dana's investigations are that of an intelligent sleuth. We go beyond the lovecraft influence with the way these threats are dealt with however - it's clear that these supernormal creatures have immense power and overcoming such danger is a close call, Dana doesn't have super-abilities but overcomes with her clever, quick thinking.
The last couple of stories are co-written by Joe and Kasey, with the perspective changing to Jana, who stumbles into the world of the supernormal by accident. The voice of these stories is closer to Kasey's writing than Joe's - which, while complimentary to Joe's, provides a more contemporary tone. This change is effective not just in breaking up the story, but also providing a clearly different vantage point to view to Dana and her work.
Terror is our business is an immersive, rewarding and highly entertaining read, it's got bags of style and wonderfully rich characters. Highly recommended.
Written on 2nd April 2018 by Ant .
You may also like