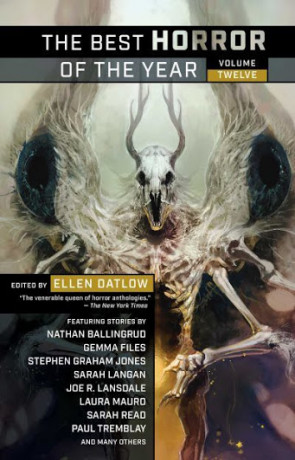 Book details
The Best Horror of the Year - Volume 12

Publisher:

Night Shade Books

ISBN:

978-1597809733

Published:

October 2020

Pages:

480

Format reviewed:

Paperback

Review date:

15/10/2020

Language:

English
Volume 12 of Ellen Datlow's annual "Best of" anthology is a must for any horror lover, assembling a bunch of short stories selected by this distinguished Editor from the usual annual deluge of dark short fiction appeared in print or online.
In addition the volume,as always, includes detailed information about short story anthologies and collections, as well as novels, webzines, magazines and non-fictional work in the horror genre appeared during the previous year ( in this case in 2019).
Once again I'm astonished by the number of books I've missed and Ellen's list, with her comments about the quality of the various publications, makes me so enthused that I have to restrain myself to place a big order at my favorite online booksellers.
This exhaustive precious piece of information itself is invaluable to any horror reader. Then there are the stories. Wondering if those stories are really the most accomplished among the ones published in 2019 is a an useless exercise. We all have our own taste, our own favorite authors and subgenres.
Allow me, however, to mention, among the best horror stories of the year, my "magnificent four".
"The Puppet Motel" by Gemma Files,is a claustrophobic, nightmarish example of urban horror, disturbing in the extreme. Joe R Lansdale's "The Senior Girls Bayonet Drill Team" is an excellent tale depicting what at first seems the preparation to a sport game between schools and then is revealed to be a much more deadly confrontation.
In the very disquieting "The Night Nurse" by Sarah Langan, the horrific element is predominant but the squalor of a young mother's daily existence is even more upsetting.
The talented Laura Mauro provides " The Pain Eater's Daughter"revolves around the unusual family gift ( or curse) to be able to erase pain from the body of dying people. A great story from her outstanding collection Sing Your Sadness Deep.
Plenty of interesting material in this book, not to be missed for any reason.
Written on 15th October 2020 by Mario Guslandi.
You may also like