The Cottingley Cuckoo
By A J Elwood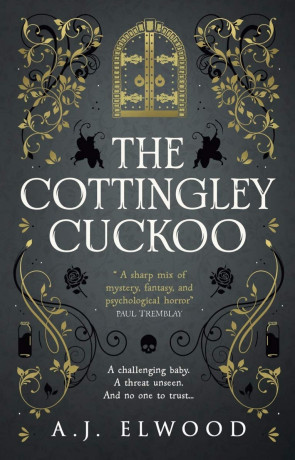 Book details
The Cottingley Cuckoo

Publisher:

ISBN:

9781789096859

Published:

April 2021

Pages:

368

Format reviewed:

Paperback

Review date:

19/04/2021

Language:

English
Fairies are not real. If they were we would have more evidence of them than a suspect looking photo taken by a couple of Victorian School Girls. However, Fairies are just brighter than you think. Why would they risk being seen by humans who have in recent years proven to have a poor track record when it comes to protecting the fauna and flora of Earth? If they do exist, they will undertake their work quietly, showing themselves to a child here, granting a wish there, stealing a baby or two on the sly …
Rose is not where she thought she would be. Her grand vision was of world travel and great literary works, but life got in the way. She is now working temporarily at Sunnyside Care Home and one resident is paying close attention. Charlotte Favell is not like the others; she appears regal and more aloof. The other workers do not enjoy helping Charlotte, so it is up to Rose. She soon discovers that Charlotte's barbed wit is hurtful but is willing to withstand it for one reason only: the mysterious letters in Charlotte's possession. These letters tell a story from over a hundred years ago about magical folk. Could the Charlotte in the letters be the same person who is in the Nursing Home?
The Cottingley Cuckoo by A J Elwood is not a story of big magic, but the type of small tricks that magical folk would undertake if they existed. By convincing others that they are imaginary, the fairy folk can remain hidden. Rose's journey is one of urban fantasy and psychological horror. A simple interest in some old letters opens a new world for her. Are the letter and their content real?
The psychological battering does not come from the fairy folk, but from Charlotte and even more so from Rose herself. Rose is a thinker, and the book is told from her perspective. Charlotte is a manipulative and cruel person; Rose the perfect victim. It does not take much to send Rose off into a spiral. This is a character used to exploring her own thoughts and filling in the blanks. With a gentle nudge here and there, Charlotte starts to convince Rose that magic is real.
The novel is in two sections. In part two Rose's mental health suffers even more, but the magic is also more real. Cottingley shows that Fairies are not what some people are used to. This is not a tale of Tinkerbell, but a story from folklore of child snatching and changelings. The subject matter becomes uncomfortable and horrific, as you would hope from a horror story. Those with children should expect to get a fright.
The structure of the book is really what ramps the tension up. The majority is set within Sunnyside Care Home, but as soon as Rose starts to read one of Charlotte's letters we are transported back to another time where the writer is trying to convince Sir Arthur Conan Doyle that fairies exist and they are increasingly harassing his family. Rose becomes hooked on the tales and will even search Charlotte's room when she is out for more. Events in the present take on a different light each time we learn more about the past.
Cottingley works best for a reader who enjoys an intense character led story. Rose is front and centre as it is told from her perspective. In many ways she lives the fantasy life in her head of what she is going to be. She is scared to admit that were she actually is now the reality, so when an opportunity to escape into magic presents itself, she dives right in. The question is, is this magic real or just a cruel trick played by the bitter Charlotte?
You may also like