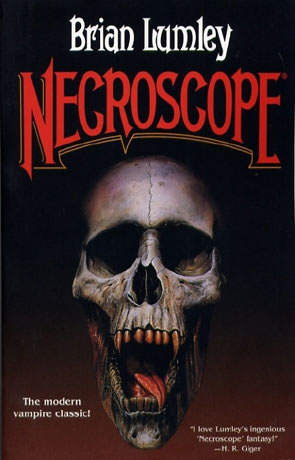 Book details
Necroscope

Series:

Necroscope Series

Publisher:

ISBN:

9780586066652

Published:

June 1986

Pages:

512

Format reviewed:

Hardback

Review date:

23/08/2013

Language:

English

Age Range:

N/A
Books in the series
About the author
By the time Lumley got around to writing this book he had already written thirteen others. His early works expanded heavily the Cthulu mythos with some subtle differences. He introduces us to a guy named Titus Crow. But that was then and this is now and we have a new hero to thank. Harry Keogh. Harry has talents passed down from his mother, herself a true psychic medium. Harry's talent originally is that of Necroscope, a self-coined phrase. This talent allows him to speak to the dead. While it often seems as though Harry is daydreaming his way through school and getting average grades he is in fact preoccupied with the countless dead. He discovers he can use his ability to learn from others and in doing so becomes a maths whizz amongst other things. After discovering how he his mother died, by the hands of his murdering stepfather he uses his talent to get revenge. During this time he comes under the attention of the British E-Branch, a highly secret government organisation where all the members have their own talents, and they aim to recruit him.
The Russians too have their own version of the E-Branch and among them is one Boris Dragosani, a necromancer. Where Harry's talent allows him to speak to the dead, Dragosani's talent as a necromancer means he can torture the secrets from the dead and they will give up everything. Dragosani discovers the burial place of a still undead vampire and uses him to develop his own skills as he aims to hasten his power mad dreams. Harry learns of Dragosani and plans to stop him using his own unique abilities with the help of a guy named Mobius, a highly clever but dead mathematician.
What this book does fantastically well is the characterisation. You really feel for Harry and his plight. You are pulled along by Dragosani and his descent into vampirism. You get the horror, you get the thrills, adventure and excitement. As a standalone horror novel you have questions upon questions wondering what would happen next. The book finishes with a definite promise of a sequel. What follows though is not just one sequel but a whole new world of them. The Necroscope is the first of an original five part series, from then which follows another trilogy offshoot and then yet another nine books all concerning themselves with the Necroscope to become one of the most exciting horror universes ever. Ever! This is a book so good I have now read it three times and plan to read again if get the chance. It is very addictive and probably my all-time favourite horror series.
Written on 23rd August 2013 by Arron .
You may also like