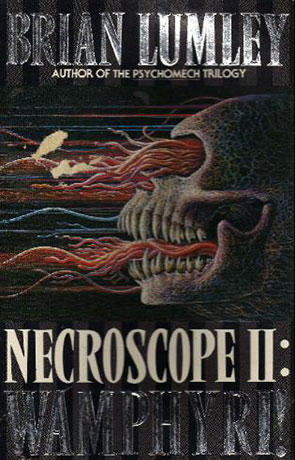 Book details
Wamphyri!

Publisher:

ISBN:

978-0586200001

Published:

June 1998

Pages:

496

Format reviewed:

Hardback

Review date:

31/10/2014

Language:

English

Age Range:

N/A
About the author
Second book in the original five book series and it follows directly on from where the first book, The Necroscope finishes. The story revisits old characters, further improving on and immersing us in this world of Espers and monsters.
Harry Keogh, the original Necroscope has lost his body but his mind continues to live, inhabiting the body of his new born son and using the Mobius Continuum to reach out and speak to his friends in E Branch. Why does he need to speak to them? Because there is a new threat abroad in the world. Thibor Ferenczy the original vampire from the first chapter has been up to his old tricks again, and where Boris Dragosani received the seed and became Wamphryi in his own right, so a new vampire has been born. A pregnant woman, faints on the grave where Thibor lay imprisoned for eternity. He sends forth his essence, exploring her body inside, and out. Discovering she is pregnant Thibor puts some of himself into the woman and so taints the unborn child. Julian, the unborn baby grows up, knowing himself different from others he tests out his dreams and nightmares, discovering who he really is, what he really is and who is real father is. The espers keep him under surveillance, watching, making sure.
What follows is a very scary ride as Julian learns of Harry, learns that he is trapped in the body of his infant son and sets out to tear him to pieces.
The book really picks up the pace from the first novel, brings new characters into play and fleshes out existing characters. The world becomes darker than it already did thanks to Julian, the boy next door. You can really start to see where Brian is going with this story, both revisiting the history of Thibor and his beginnings, of Faethor Ferenczy, the original Vampire who created Thibor. You start to wonder more about them and their beginnings and it starts to make you ask questions that the first book didn't make apparent.
This is a fantastic second step along a horror filled journey. Brian is really starting to have a bit of fun with this second instalment and is starting to discover more about the Wamphyri himself as he writes. Reading this book can only make you rush out to buy the third in the series so you can continue reading without pause.
Written on 31st October 2014 by Arron .
You may also like