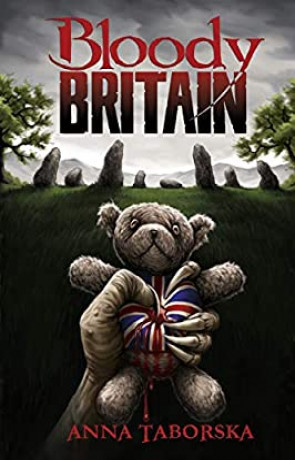 Book details
Bloody Britain

Publisher:

Shadow Publishing

ISBN:

9780957296299

Published:

October 2020

Pages:

298

Format reviewed:

E-Book

Review date:

09/11/2020

Language:

English
The latest collection by Anna Taborska, a British filmmaker and horror writer, includes fourteen stories, five of which previously unpublished. The volume is graced by a witty introduction by distinguished fellow writer Robert Shearman and enhanced by a number of beautiful illustrations by Reggie Oliver, who not only is an extraordinary author of dark fiction but a skilled illustrator as well.
A new short story collection by Taborska was long awaited since her debut collection For Those who Dream Monsters won the Dracula Society' Children of the Night Award and was nominated for a British Fantasy Award.
The present volume assembles a bunch of good stories such as " Out of the Light",where a young man has his life ruined by the content of a mysterious, elusive book which becomes his obsession, "Rockstar", a dark piece portraying the frontman of a rock band, whose songs turn out to be linked to real murders, "Formby Point", a vivid, horrific tale in which sea tragedies from the past return to affect a man revisiting the places where he spent his youth and "Daylight Robbery", a very disturbing, dystopic tale depicting the cruelty and craziness of a future world.
To me the best stories are "Cyril's Mission", an effective piece featuring a disenchanted priest fighting against an ancient monstrosity, and the superb " Teatime" an intense, gripping example of graphic horror featuring an insane serial killer bound to get his deserved punishment.
Looking forward to Taborska's next book.
Written on 9th November 2020 by Mario Guslandi.
You may also like