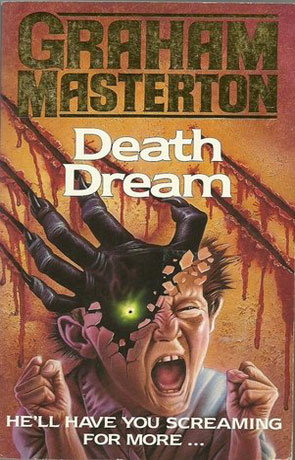 Book details
Death Dream

Publisher:

ISBN:

9780751505399

Published:

May 1989

Pages:

336

Format reviewed:

Paperback

Review date:

28/05/2013

Language:

English

Age Range:

N/A
Although Graham never seems to have reached the dizzy heights of other horror writers he has been a very prolific writer over the years, and has seen a few of his works hit the silver screen. However, forever in the shadow of the likes of Herbert, another British horror novelist, these movie adaptions seem to be B-rate movies at best, and this seems to be the idea people have in mind when they pick up one of his books. Garnering much of his success in the late seventies and early eighties the front covers of many of his books look dated and naïve at best. In fact many of his novels would look right at home among the many discount book stores that adorn our high streets.
Let us not detract though from the story and the imagination however, which are both pretty decent. This book is the second in a series about the legendary Night Warriors. A group of people with specific powers who enter the dream world and hunt out and kill the evil they find there. Yes it does sound a lot like Nightmare on Elm Street, and there are plenty of similarities to be found. Lots of graphic violence, action and a tiny, tiny bit of black humour. Death Dream can be read as a standalone novel, the references to its predecessor in the series are few enough to allow this to happen, but they are also there so if you wanted to read the series as a whole you could enjoy them simultaneously.
The story tells us of a young boy, Larry, who beset by nightmares has discovered that something is using his bad dreams as a gateway to our world and is tearing whoever discovers it limb from limb. First of all his step mother, then his father ends up paralysed. Many more end up as spilled guts on a carpet. However when Larry's father, along with some other men in wheelchairs, discover they are the ancestors of a breed of heroes called the Night Warriors, they discover they have powers beyond imagination and enter the dream world to destroy the monster within.
Death Dream is a really good mix of fantasy and horror and is typical of Graham's work. I would recommend reading Night Warriors first, but if you can't you won't be disappointed with this book.
Written on 28th May 2013 by Arron .
You may also like