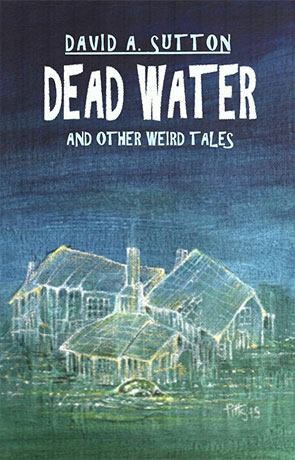 Book details
Dead Water and Other Weird Tales

Publisher:

ISBN:

B00UM7CZPE

Published:

Pages:

235

Format reviewed:

E Book

Review date:

11/04/2015

Language:

English

Age Range:

18-
David Sutton's fascination with horror stories has led him to a considerable career immersed in the macabre and terrifying. Looking back over his work it is surprising to me that I'm only just discovering him as a writer, although I am indebted to his editorial skills on Dark Horizons, a British Fantasy Society journal collection I read many years ago.
Dead Water and Other Weird Tales is a wide ranging mix of work, drawing inspiration from a multitude of different sources. Though there isn't a definitive theme to this group of tales, in that each makes use of different elements, they sit together without discomfort and the application of writing is familiar enough to for you to feel at home with the writer without the game ever being given away.
We have the claustrophobic tension of William Dillington's pathetic plight in Corruption to the otherworldly superstition made real in The Transmigration. Sutton doesn't limit himself by character, style or plot. There's a wide variety of each here and an enough divergence to keep you guessing as to how every story will end.
The variation of setting between these stories is also a highlight with mysterious goings on drawn out of both the exotic and the mundane. Whether its black magic curses in exchange for bad reviews (I'm duly warned) or ritual sacrifices to 'the Sibunda – the most feared monster of the jungle' you never feel as if the writer is out of his depth. He saves that experience for the characters!
Throughout the collection it is clear Sutton is very adept at inventing myth, communicating it to the reader and letting things linger in your mind long after you've finished reading. The endings of his stories are particularly well-crafted, whether as a cliff-hanger or with mortal finality, each leaves something for you to remember them by and this highlights the intimate relationship a writer can have with their reader.
Deeper in the mix lies the Lovecraft inspired story Innsmouth Gold. It's a simple first person story with a close perspective, but just the mention of 'Dagon' immediately stiffens the spine. Sutton weaves the Cthulhu mythos into his own lingering legend with a deft hand that means the work adds to what went before without even the slightest contradiction. A lone camper seeking his fortune in an abandoned town was always going to be an effective premise in the hands of a good storyteller and David is definitely that.
The title story Dead Water is another standout. Set in France, again, we have a lingering legend a little carelessness and a pathetic struggle against the inevitable. Darkness is used to engender claustrophobia and the twist is unexpected, personally horrifying and attention grabbing at the same time. Few stories ever force me to read on so effectively.
David A. Riley comments in the introduction to this collection that it's 'about bloody time' and I'll echo the sentiment. Sutton is a masterful writer of short horror and one whose work needs to be savoured.
You may also like