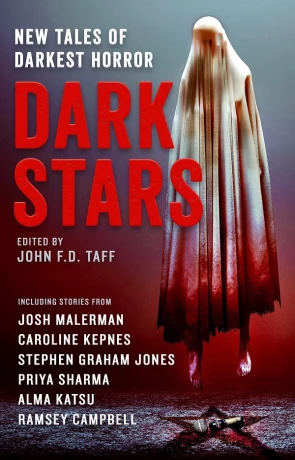 Book details
Dark Stars

ISBN:

9781789098983

Published:

March 2022

Pages:

428

Format reviewed:

Paperback

Review date:

05/05/2022

Language:

English
I am a massive genre fan, but I have not always had a good relationship with horror anthologies for the simple reason that they have scared me in the past. The shorter form of horror story can give a jolt to the reader's senses and then disappear, only to live on in freaky flashbacks. From 13 Tales of Horror to the darker stories within The Illustrated Man, I still recall tales of teenagers coming back from the grave or parents being eaten by lions who live in virtual reality walls – over 30 years of impact. John F D Taff has a lot to live up to in the collection Dark Stars if they hope to still give me nightmares in 2052.
Dark Tales contains twelve new tales of modern horror, but what is modern horror? If Dark Tales has anything to say about it, modern horror is many different things and cannot be pigeonholed. Out of all the genre fiction I do read, horror is the least read, often because I do not like to be scared too often. A lot of the stuff I have read could now be referred to as vintage from the 70s-90s. It felt quite visceral to me, while these modern tales are more cerebral, often featuring the horror from within the minds of the characters, rather than describing gruesome scenes such as giant rats tucking into the contents of a crib.
Some of the stories feel very modern. 'All The Things He Called Memories' by Stephen Graham Jones is set during the lockdown and has a very claustrophobic sense of horror as a couple reveal their biggest fears to one another, only for one of them to be haunted by it. 'A Life in Nightmares' by Ramsey Campbell is set during the 80s but felt like a modern condition to me. Two sisters are learning about love and dating, only for the object of their affection to be the wrong type of man. Rather than blaming the suspect, the local community chooses instead to blame the girls.
Dark Tales really is an eclectic mix of stories. Alongside the phycological horror are tales that I would call Urban Fantasy. Chesya Burke's 'Trinity River Blues' and 'The Sanguintalist' by Gemma Files are both the type of thing I read often. Detective-esque tales with a supernatural twist. The protagonists' powers are a little on the darker side, but not horrific.
My favourite stories have the right balance of story and horror. Even at 50 pages maximum the likes of 'Enough for Hunger and Enough for Hate' by John Langan and 'The Familiar's Assistant' by Alma Katsu tell an entire tale. You do not realise that you are reading a short story as by the end you feel the satisfaction of a start, middle and end. In both these stories there is also a nice finale that feels exactly right for a short horror story, shocking.
I enjoyed my journey through the darkest horror of Dark Stars as it gave me an insight into the diverse ways that modern authors tackle the genre. I did not find many, if any, of the tales truly horrific, but some were unsettling and did make me think afterwards. This may just be me getting older and jaded. I do not get scared as easy, but I do think this collection promoted horror from within our minds more than stories I have read in the past. Only some of the tales had disturbing or gruesome scenes, the type of horror I grew up on. It is great that the genre can branch out to encompass more types of reader, but it does mean that most readers, no matter their horror tastes, will enjoy some of the stories in this collection more than others.
You may also like