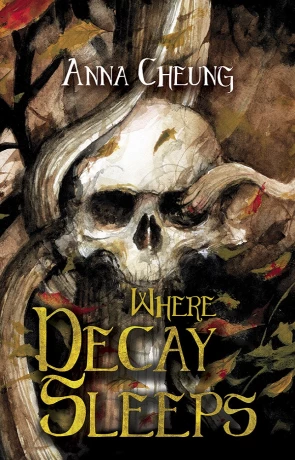 Book details
Where Decay Sleeps

Publisher:

Haunt Publishing

ISBN:

9781916234734

Published:

October 2021

Pages:

81

Format reviewed:

Paperback

Review date:

02/02/2022

Language:

English
I do not like to think about death much as it makes it seem a little too real for my liking. I am still sticking to the hope that they invent that infinity pill before it is my time. If you are going to explore death, you may as well make it as beautiful as you can, and poetry can have a beauty. It can also be dark, challenging and fun as Anna Cheung's book of poetry, Where Decay Sleeps shows.
Cheung splits the concept of death into seven segments, including birth, loss, beauty, and metamorphosis. This allows the poet to collate some like-minded poems into separate sections and give the book a sense of structure. This is great depending on what mood you are in. You can pick up and read a poem or two, or an entire section. Those hungry for prose can even read the entire book in one sitting, but you will lose some of the impact doing this. I found it best to sit and digest for a day or so after a few poems.
I am no expert in poetry and have not read much of it since my days with Roger McGough, but even I can sense the assorted styles of poetry contained within Decay. I found some of them phycological. These poems made you work and did not always reveal their meaning until they have been read a few times. I feel that if you are a regular poem reader the structure would come naturally, I am not and had to work for it, but enjoyed the process of developing a new way of seeing text. I read a lot and have developed a good vocabulary, to get the most out of this book you will want to develop a decent lexicon or be willing to explore new meanings.
My favoured poems within this collection read like short stories, especially the mini horror vignettes or creature features. This says more about my tastes, but also proves that within the collection there are poems that will appeal to several types of reader. There are poems that feel like vintage gothic ghost tales and others that suggest there is a Tinder for movie monsters. I would recommend that you read all the poems, embracing those that you enjoy the most, but also give time to those that you do not. They may reveal something.
With its menacing cover and name, Where Decay Sleeps could be dismissed by all but gothic horror fans, but that would be wrong to do. The main thread may be about death, but the stories are not depressing or introvert. Some are funny, scary, or thought provoking. In some cases, all of these. Having not read a book of poetry for over 20 years, Decay showed me that I will have no problem tacking another, especially if the theme is genre based. I would recommend this to any horror fan as an alternative way to explore their favourite genre.
You may also like