Autumn - Dawn
By David Moody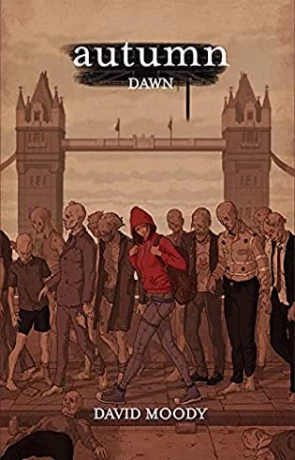 Book details
Autumn - Dawn

Publisher:

Infected Books

ISBN:

978-0957656383

Published:

May 2021

Pages:

296

Format reviewed:

E-Book

Review date:

04/08/2021

Language:

English
About the author
It's good to see that we are slowly getting used to living our lives in a pandemic / post-pandemic society. It's a tough time for most people (unless you happen to be a space faring billionaire) but we have vaccines and some promise that with enough people vaccinated, we should at least be able to create some type of new normal.
Thankfully our real pandemic pales in comparison to most fictional accounts, including David Moody's Autumn universe, where 99.9% of the world's population die at pretty short notice. Consumed by a virulent and deadly germ with no warning and no symptoms, bodies are left where they drop, in the streets, in homes and at places of work. 24 hours later the 0.1% who survive try to scavenge what they can.
And then, after just a few days, the dead bodies start moving again.
Autumn - Dawn is the start of a new series set within this universe, this time following those in central London who are trying to make sense of this new reality while the re-animated corpses become more and more animated. I love Moody's decision to start the story from the beginning with new characters in a new setting. Those familiar with the previous Autumn books will feel right at home, but at the same time it's a clean slate for those who have yet to enjoy the authors work. While the book is full of these undead, Autumn - Dawn is really a story of the survivors. How they cope with such a drastically changed world in the centre of what was such a vibrant and bustling city. The story moves through the viewpoint of a number of characters, although like many books set in London it could be said that the main protagonist is the city itself - London has such presence. The people are realistically drawn in shades of grey, each reacting to the situation in their own way - for good or bad. There is a tense, fraught atmosphere running throughout the book and the author does a wonderful job of creating such tension along with a dangerous feeling that literally anything could happen at the drop of a hat. No one's safe here and people can get picked off faster than you can say George RR Martin. Despite this atmosphere there is also a distinctively british dark humour bubbling just beneath the surface - subtle but all the more noticeable for its subtlety.
As with the other books in the Autumn universe, if you are looking for a story that focuses on graphic body count, you'll be disappointed. While there is plenty of action - including some great scenes that feature the iconic Route Master buses - this is a more serious, less gratuitous story. Instead the undead act as a counterpoint to that of the human condition. How we react under extreme duress, how some will look out for themselves, others reverting to savagery, but others will still try and do the best in a bad situation. Society itself would of course collapse and those who are the most valued are the practical - rather than the current political leaders - lending weight to Lenin's quote that any society is three square meals from chaos.
The pace is just about right, Moody doesn't drop into lengthy exposition or world building, instead keeping the plot focused and steady, which when combined with the atmosphere and clever use of characters, results in a book that's difficult to put down.
Autumn - Dawn is impressive, offering a new perspective on the author's past creation, resulting in a strong, atmospheric and thoughtful horror.
Written on 4th August 2021 by Ant .
You may also like