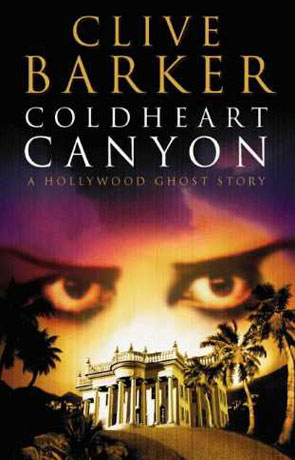 Book details
Coldheart Canyon

Publisher:

ISBN:

978-0006510406

Published:

August 2001

Pages:

768

Format reviewed:

Paperback

Review date:

27/09/2013

Language:

English

Age Range:

18-
About the author
Now I am a self-professed fan of horror books and have been since I was a teenager, reading hundreds of horror books along the way. Most have been good, a few not so good. I have collected loads of authors along my journey, possessing all the King novels, Herbert novels and quite a few Barker novels. I must admit though until now I have never actually picked up one of Barkers novels and read one. This was my first, embarrassedly so. And it was awesome! Quite a hefty book with the paperback standing over 700 pages so it did take me a while to read but then I was in no hurry to put this book down completed either.
What is good about this book is the level it is pitched at. I've always believed Barker to be a high brow horror writer and maybe this is one of the reasons I've been too afraid to pick one up until now. This book though was nothing like that, just a fantastic read, well-structured and with an ending that, yes, maybe typically Hollywood style but then that is the subject of the story so I thought it fit quite well. What I found really good and the main point that dragged me in was the dialogue. Starting out so real, you could actually hear the conversations in your head they were so believable. Probably the best dialogue I have come across and then the way it switches halfway through the book and then becomes almost standard Hollywood style speaking was really clever and tied in nicely to the undercurrent theme. Now remember this is the guy who introduced the world to Pinhead and the lovely Cenobites from the Hellraiser movies so do expect a good spattering of horror. You won't be disappointed. The right level of graphic detail mixed amongst the tension and the supernatural elements was damn good, and if there is a teenager amongst his many readers they will probably find the interspersed erotica more than pleasing.
Coldheart Canyon is a book about a movie star on top of his game but starting to slide down the popularity ranks due to some box office flops as he gets older. In a desperate bid to remain at the top he agrees to undergo surgery to retain his handsome youthful looks. The operation doesn't go as planned and he is forced to go into hiding in a remote mansion in what is known as Coldheart Canyon, high up in the Hollywood hills. The house belonged to one Katya Lupi, a former Hollywood star of the Golden Age of the Twenties and down at the bottom of the house is a room, or a world, or a world within a world. Called the Devil's Country it houses thousands of tiles, all portraying a Dukes hunt for the offspring of Lillith, God's first female creation, and the Devil. Stepping into that room transports you to the world of the hunt, and so addictive is the buzz from the room that you can't stop coming back to experience it. Even if you have been dead for many years. The house holds more than one secret though as Todd Pickett the movie star will soon discover.
Written on 27th September 2013 by Arron .
You may also like