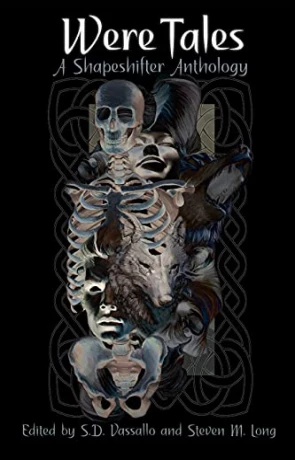 Book details
Were Tales: A Shapeshifter Anthology

Publisher:

Brigids Gate Press 2021

ISBN:

979-8478439415

Published:

September 2021

Pages:

290

Format reviewed:

E-Book

Review date:

20/11/2021

Language:

English
A whole anthology addressing the subject of shapeshifters ( beyond the time honored example of werewolves) is a real challenge because the risk of repetitiveness ia always around the corner and so is the hazard of making suspension of disbelief an unreachable goal.
Editors SD Vassallo and Steven M Long deserve to be congratulated on their courage in assembling such an anthology ( and a huge one, incidentally) and for being able to select some effective, credible and entertaining tales on that subject.
I will focus my comments on the more accomplished stories, those which make the book worth reading.
" More Afraid of You" by SH Cooper is a bit predictable but vivid tale where a beautiful woman reveals her true nature , while " The Skulk Legacy" by Alyson Faye is a slight, but interesting variation on the theme of wewolves, depicting the secrets of werefoxes...
Catherine McCarthy contributes the excellent " Y Ceffyl Dwr( The Water Horse)" a dark fable featuring a young girl seeking revenge on her mother's murderer through a shapeshifting promoted by a cooperative witch.
The very enjoyable " Darkness Peering" by Ben Monroe revolves around a lonesome pawnbroker endowed with unexpected, helpful qualities.
To me the best story in the volume is the splendid " Wife to the Wild" by Clara Madrigano depicting a jaguar-man, his fate, his lover and his offspring.
Happy shifting...
Written on 20th November 2021 by Mario Guslandi.
You may also like