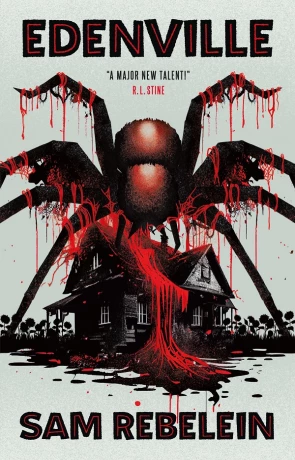 Book details
Edenville

ISBN:

9780063252264

Published:

October 2023

Pages:

0

Format reviewed:

Paperback

Review date:

30/10/2023

Language:

English
It is important to choose the place of Higher Education that suits you. You may want to go to one of the old Universities of learning, taking with you high grades and a love of academia. You may want to go somewhere more relaxed or vocational. Where do you go if you are interested in creative writing and particularly the genre of horror? Well, there are always openings on the programme at Edenville College, and they are the lookout for a Visiting Lecturer, preferably one who sees visions and is compelled to write them done, lest the strange ooze secreting from their eyes blind them. Welcome to Sam Rebelein's Edenville.
Can you call yourself a writer if you do not write anything? Cam Marion has not written much since leaving University, but in a pique of inspiration he writes a horror story based on a vivid dream he had. The story catches the eye of the Creative Writing Department over at Edenville University. They are looking for a man just like Cam to tutor their students. Cam drags his partner, Quinn, with him to a remote part of New York State. Quinn soon starts to realise that things are not right with the town, why have so many people disappeared? With Cam too busy being praised for his art, it is up to Quinn to investigate.
It is the month of horror and Edenville has plenty to appeal to a fan of the genre. It has that icky dark feel of vintage 70s and 80s horror. The main protagonist being a writer is always going to evoke the likes of Stephen King. While the book never reached those heights, it has some moments. The best sections are focussed on the body horror from the gummy creatures that feast on flesh, to the fate of the missing people. There is plenty in the book to disturb.
This sense of unease permeates the book. Rebelein has an offbeat and gonzo style, the book populated with eccentrics who happen to be evil, as well as a little mad. But when their goal is to open a hole into hell, who is to say that they are mad when it is working?
Cam is deliberately an unlikable character; this makes Quinn more sympathetic as she must put up with him. Despite Cam's flaws, you can still appreciate the character as they seem real. An artist can become wrapped in their work, seeking praise from strangers, rather than focusing on those near them. Quinn is better, but she too has problems. At least she has some gumption. The pair fumble around the town of Edenville barely surviving.
The academic team at the University are a highlight of the book. This group of infighting and bickering academics also hide a dark secret. They go about trying to run their cult like a typical departmental meeting. Cam and Quinn find themselves thrust into this world, it would be comical, if it were not so deadly.
The tone of Edenville is a mixture of comedy and horror. When Rebelein fixates on one or the other, it works, but like in many cases when the two mix, it sits a little off. The story is also complex. Ideals include visions and gateways to other dimensions, but there are also sections on time travel and rebirth. It all overlaps on top of one another to confuse the reader more than it should. When Rebelein sticks to telling some stonking body horror or amusing academic patter, the book is clear. Still an enjoyable book for fans of horror, but a little messy around the edges.
You may also like