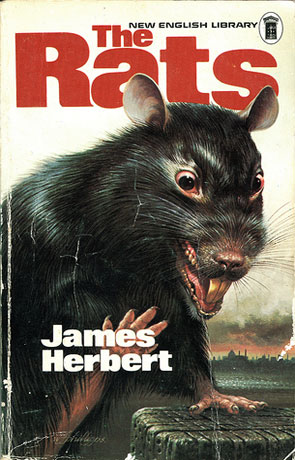 Book details
The Rats

Publisher:

ISBN:

Published:

1974

Pages:

212

Format reviewed:

Paperback

Review date:

21/06/2012

Language:

English

Age Range:

N/A
About the author
This was James Herbert's first novel and while it isn't a masterpiece by anyone's standard you could quite clearly see he was a writer with some promise. His style was easy on the eye and although fairly basic in places you could see that he knew how to use pace and atmosphere to his advantage.
With being quite a short novel, it isn't surprising that the fast pace of the book means you can read the whole thing in a few short hours but don't let that detract you from enjoying the experience of this novel. It does read a lot like watching a horror movie. It grips you in all the right places, makes you hold your breath in abated horror in others and makes you almost mentally sick in others, unless you're the kind of reader who doesn't flinch at babies getting ripped apart being described in vivid detail.
Now it is unclear whether Herbert set out to shock his readers from the outset as this was still the seventies and readers hadn't experienced anything quite like this before, or this was in fact a clever prediction of where the culture of horror was heading and wanted to give the audience something more graphic than other writers of his generation. Whatever his reasons the subject matter itself is enough to scare most readers, giant black killer rats. Most people would say, "That's not scary", from the comfort of the sofa on which they may read the book. Put yourself in the protagonist's position though and with Herbert's clever word weaving and you will see furry bodies moving in every alley you pass.
The Rats is a simple tale of terror, it is like the typical disaster movie of the seventies that were very prevalent and because of this it did its job very well back then. It comes across as a bit dated now we have some more realistic horrors of a more modern generation but it has its place in history as the first Herbert novel and because of this I would recommend this novel for anyone who fancied trying their own hand at writing, because it does prove even the greatest writers have humble beginnings.
Written on 21st June 2012 by Arron .
You may also like