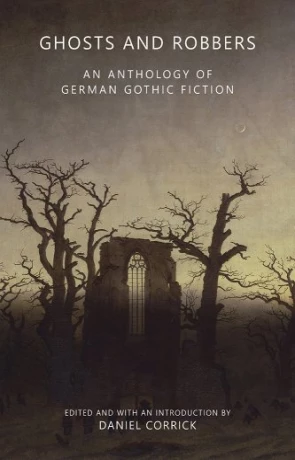 Book details
Ghosts and robbers

ISBN:

978-1645250876

Published:

December 2021

Pages:

248

Format reviewed:

Paperback

Review date:

18/03/2022

Language:

English
The nineteenth century was the golden age of the Gothic fiction in Germany. The present volume makes available in English for the first time a group of stories originally appeared in German and, with one exception, unknown so far to the English-speaking world.
The exception is represented by "The Bottle Imp" by Friedrich de la Motte Fouqué, a classic, famous cautionary fable where greed and the supernatural effectively blend.
Among the other stories, some are especially worth mentioning.
"The Grey Chamber" by Heinrich Clauner is a solid, traditional ghost story addressing the time-honoured subject of the haunted room while "The Warning" by Gottfried Peter Raushnick is an enjoyable tale depicting a dangerous, long trip through inimicable forests.
In the complex "Valerie" by Caroline de la Motte Fouqué a skeleton used by a surgeon for his studies plays a major role in influencing the lives of a group of people and in the long, moralistic "The Sorceress" by Ludwig von Baczko the events concerning the different lives of two girls are vividly described.
"The Death Watch" by Luise Mühlbach is a dark gothic piece revolving around the properties of a peculiar watch able to announce disgrace and death.
The best story, to me, is perhaps "Wake Not the Dead" by Ernst Raupach, a creepy tale where, with the help of a sorcerer, a man rescues from the grave his long dead first wife who, in order to remain among the livings, turns into a vampire.
The volume is an interesting and enjoyable experience both for scholars of the Gothic literature and for the common readers fond of dark, elegantly written fiction
Written on 18th March 2022 by Mario Guslandi.
You may also like