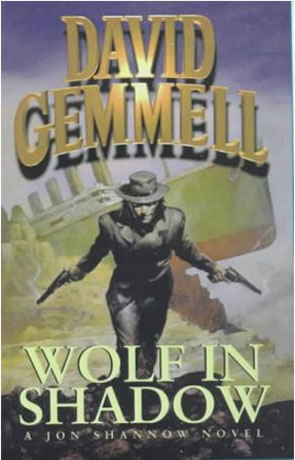 Book details
Wolf in Shadow

Series:

Jon Shannow Series

Publisher:

ISBN:

Published:

December 1987

Pages:

336

Format reviewed:

Paperback

Review date:

18/12/2009

Language:

English

Age Range:

N/A
Books in the series
About the author
Wolf in Shadow is the first volume in the Jon Shannow series written by the late David Gemmell.

300 years after Armageddon has caused the earth to topple on it's axis, the Jerusalem Man wonders the post-apocolyptic wastes. This isn't some aimless wondering though, Jon has a mission to local the Fabled city of Jerusalem which has been fortold in the bible to have been reborn.

Abaddon, the Lord of the pit and his hell-born army are trying to plunge this shattered world into a new satanic era. Abaddon could be considered immortal, having lived hundreds of years, being born before the sundering of the earth. He draws his power (and fuels his immortality) by the Sipstrassi stones, which in turn are powered by the Human Sacrifice and bloodletting of his army.

They have however made the fatal error of kidnapping Jon Shannow's wife for use as a sacrifice and they now face the deadliest warrior of the new age, Jon Shannow - The Jerusalem Man.

This novel is both the third volume in the Stones of Power series (following on from Ghost King and the Last sword of power novels), and the first volume in the Jon Shannow series. David Gemmell uses his unique writing style to bring life and soul into the post-apocalypse world of Jon Shannow. Character development and action are the key strengths of Davids work and this is no exception.

While the post-apocalypse western style isn't new, and has been done by noted authors like Stephen King (the Dark Tower series), in my opinion none can match the Jon Shannow series. Gemmell is an undoubted master of epic fantasy but here we see a deeper, even more intelligent side to his writing. The bloodletting is toned down and more time is given to the characters, back story and plot. The result is an astounding work of fiction that has never really been given the credit it deserves.

Wolf in Shadow is one of the finest novels I have had the pleasure of reading and is amongst Gemmells finest work.
Written on 18th December 2009 by Ant .
You may also like