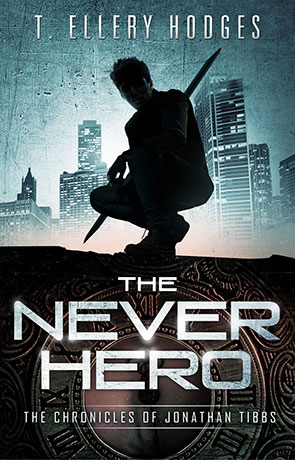 Book details
The Never Hero: Chronicles of Jonathan Tibbs

Publisher:

ISBN:

978-0692231746

Published:

Pages:

428

Format reviewed:

Paperback

Review date:

08/12/2014

Language:

English

Age Range:

N/A
First time author T. Ellery Hodges enters the scifi genre with both barrels blazing! His debut novel The Never Hero is an unexpected thrill-ride through both time and space as our protagonist Jonathan fights an alien force hell-bent on destroying humankind.
From the back cover:
At the gates between worlds
In a war outside of time
He fights for us

First, I have to admit: I read this novel after a previous binge on the Doom and Alien/Aliens series. In many ways Jonathan Tibbs reminded me of a contemporary portrayal of Dafydd ab Hugh's first introduction of Fly in Doom: Knee-Deep in the Dead, a capable protagonist thrown into a war he did not want to fight. In both novels, Jonathan and Fly are all that stand between Earth's destruction by a monstrous alien army. They are reluctant to fight but honorably rise to a role as faceless defenders—a plot that only fate could orchestrate.
Hodges's writing style is clear and appropriate for the genre; his dialogue is fluid. The characters are well rounded and meaningfully contribute to the story, providing a few subplots that add instead of distract from the main plot. The action sequences are well composed and easy to visualize. Overall, Hodges's writing is solid.
This is definitely a new creative series for fans of Science Fiction, Superhero, and Alien Invasion. An imaginative amalgamation of genres!
You may also like