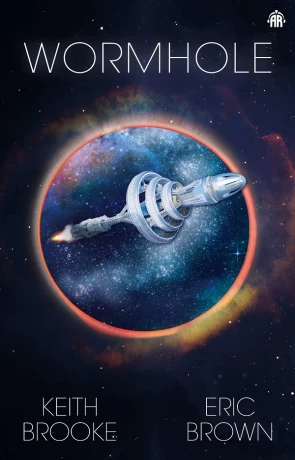 Book details
Wormhole

ISBN:

9780857669988

Published:

November 2022

Pages:

396

Format reviewed:

E-Book

Review date:

28/11/2022

Language:

English
Imagine the sacrifice required to sign up for a long-term mission into the depth of space. You are to be cryogenically frozen for 80 years and will awake to a new world. It could be that this is what you wanted all along. A chance at a new life free from the Old Earth, but they have only gone and brought wormhole technology along and not told anyone. Now Earth is only a shuttle flight away. So close to your old memories, experiences, crimes. Wormhole by Eric Brown and Keith Brooke is part new world exploration, part crime noir.
Detective Gordon Kemp has been sent to the cold case unit as punishment to end his once promising career. When he is asked to investigate an 80-year-old murder, there should be no chance of success, but one witness is still alive and has a new statement. There are holes in one of the prime suspects stories, but she is a scientist who left for space 80 years ago. Kemp has one last great case in him as the power that be reveal that the suspect may be accessible.
I have said it many times, but science fiction is so great as you can do so much with it. In the case of Wormhole, Brown and Brooke do more than one thing. It is a futuristic crime story, but also a first contact space exploration novel. The opening section follows Kemp and his partner as they investigate a crime on future Earth. Later, the book splits as we follow the suspect on her adventure on a new planet.
It starts off feeling a little odd to have two quite different concepts bouncing back and forth, but as the novel progresses, they are drawn together as Kemp is sent out to arrest the suspect. This is a fish out of water scenario as Kemp has no compulsion to go to space but is his discomfort intentional? This is more than just a murder 80 years ago, but a conspiracy that spans the decades and powerful people. The true enemy may be far bigger than Kemp can imagine.
There is a stonking crime story that runs through Wormhole keeping a rhythm, when Kemp is off world, his partner continues to investigate. It may feel quite different, but equally as good is the planet exploration elements of the story. Brown and Brooke get to flex two different writing muscles and they work equally as well. The book becomes something a little hard to pigeonhole, but that is a good thing.
The world building is excellent, not only in the new planet, but Old Earth too. The reader is not forced to read pages of exposition, but instead you learn about the geo-politics through the stories and characters. What seems like early colour becomes more important as the story progresses. I thoroughly enjoyed Wormhole as both future crime and science fiction. It has plenty of alien landscapes to sate lovers of other worlds, but also has a solid crime narrative that has all the twists you would want from the genre.
You may also like