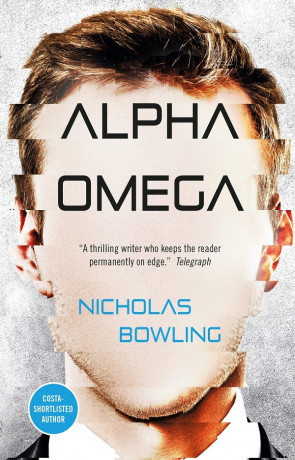 Book details
Alpha Omega

Publisher:

ISBN:

9781789093810

Published:

July 2020

Pages:

416

Format reviewed:

E-Book

Review date:

21/07/2020

Language:

English
If you read enough Near Future fiction you will start to see a trend. The future is not orange at all but bleak and a little depressing. It could be giant robots, aliens or the undead. There always seems to be something around the corner that is more dystopian than utopian. I can take all the UFOs and flesh-eating shamblers you can throw at me. The worst futures are those that are scarily familiar. A future of corporations integrating themselves with schools and people spending more time online than in the real world. Alpha Omega by Nicholas Bowling feels likes the dystopia we may all be heading towards.
When Alex Pepys finds some skull and bones on the grounds of his school, he does not tell the teachers, but instead takes them to his locker. Where are these bones from? Is it an antient Druid burial ground that Peepsy has disturbed? It does feel like a curse could be on the NutriStart Skills Academy as some of the kids are getting sick and not just with the sniffles. Small Paul has escaped into the ventilation system and keeps biting people. Where does the problem lie? In the school, the burial ground, or perhaps online in the Alpha Omega?
I have read a lot of science fiction in my time and Alpha Omega has some of the most disturbing elements because it cuts so close to the bone. Bowling is a teacher and he uses his experience of the present to extrapolate a future that could happen. Children are dictated with what role they will play in society at a young age by tests. They are then put in sponsored schools so that they end up in that company. All their actions are tracked on personal PADs, thier food regime dictated by performance. The only escape is online in a world called Alpha Omega were even the nicest people seem to lose themselves in deviancy. Sound familiar? The world of Alpha Omega is not so far removed from our own.
There are fantastical elements that are less grounded. A disease is spreading through the school and turning some children feral. The horror is not found in this but how people react to it. The Senior Management Team seem to be ignoring it, sending out placating Newsletters to Staff and Parents. The other children are kept in the dark and the teachers don't seem to care. Life is a cheap commodity in this version of the future.
Bowling has created a nuanced and dark world. There are so many layers to it that he slowly reveals as the book expands. Although mostly set in a school and online, you learn so much about the society. There is an obvious hierarchy as the support staff appear to be mute and sleep in the bowels of the building. A slick future is built on poor foundations so when things go wrong there is nothing to hold it up.
Alpha Omega is an ensemble book that follows several characters and their stories interweave. Bowling has a good balance of characters; old, young, working in the school and those who are from without. You get a rounded impression of events and you soon discover that the book is not only science fiction but a crime story. Who is behind the mysterious illness?
Although grim, there is a sense of dark amusement in the book. A lot of the people seem a little sad and their lives depressing. The fact that they live something that is a continuation of modern life here is grim, but also done with humour. I don't see us all living like Alpha Omega in future, but I do see trends in this book. Bowling uses science fiction to play with our current obsession with technology and some people's drive to get the best out of their children, no matter the cost. With its intelligent and wry look at the future, Alpha Omega is a book that will stay with me for a long time.
You may also like