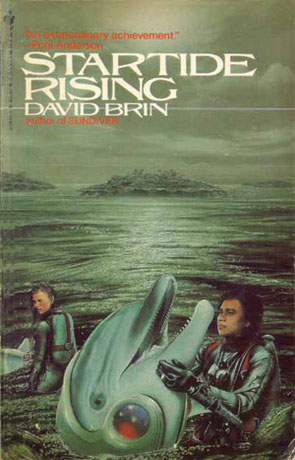 Book details
Startide Rising

Series:

Uplift Series

Publisher:

ISBN:

Published:

1983

Pages:

480

Format reviewed:

Paperback

Review date:

01/06/1999

Language:

English

Age Range:

N/A
Books in the series
About the author
Startide Rising is a science fiction novel by the acclaimed author David Brin.

Finally I have some luck with a Brin book. SR has its good sides even if parts of it make me kind of sick. Sorry, but intelligent dolphins not my cup of tea. I'm not sure why, but I think its because I really loath the kind of people who can drone on and on about how intelligent and beautiful dolphins are. As I don't want to bore you with my opinions on this subject I've moved my writing on it somewhere else.

Luckily the rest of the book is so interesting that the dolphin crap is easily ignored, esp. the uplift idea. In Brin's universe there's lots of intelligent races in the universe, but none of them (maybe except humans) have evolved into intelligens, they have been uplifted by parent races, who them selves have been uplifted (and so on and so on as long as anybody can remember). In the spirit of uplift humans has uplifted dolphins and chimpanzees.

As you can probably guess a lot of people (and non-people) are interested in what or who uplifted the first "child" race. So when the human/dolphin exploration starship Streaker finds an old and dusty starfleet, which just may be a relic of the original "first race" and by accident leaks this fact into subspace, all hell breaks lose as handful of the elder races chases the Streaker to obtain its secret (about the location). Trying to escape, Streaker crashes on a water world, with the aliens close behind (I can't help but wonder what they would have done with the dolphins had they crashed on a desert planet). Luckily the aliens start to fight among them selves, thus buying the Streakers crew some much-needed time to repair its engines.

Interesting and renewing.
Written on 1st June 1999 by TC .
You may also like