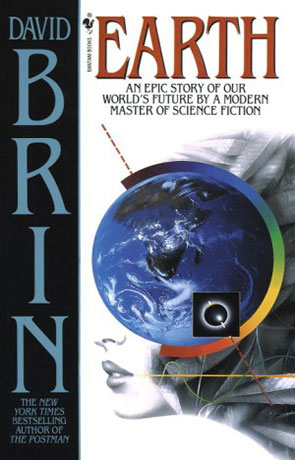 Book details
Earth

Publisher:

ISBN:

9780550000000

Published:

May 1991

Pages:

704

Format reviewed:

Paperback

Review date:

01/07/1999

Language:

English

Age Range:

N/A
About the author
Earth is a science fiction novel by David Brin.

Normally I never give up on a book, but I guess that it had to happen and now I have to decide whether it is fair to review a book that I have not read all the way through. But then again, why do I have to be fair to a book that has wasted so much of my time? I have read about 260 pages, plus the twelve-page afterword, out of the 680 pages in this book (including afterword and epilogue) and I can't remember when I last was this bored with a book.

There are a couple of problems with this book. 1) It's disjointed – the chapters are very short and between each chapter there's a small press clip or news bit. This totally ruins the flow of the book. 2) The characters are uninteresting and without an interesting background – a third trough the book I would like just one character that I care about, please! 3) In the afterword Brin writes about the hardship of writing a 50 years extrapolation and he says "Beware of assumptions that seem 'obvious' in one decade. They may become quaint in the next.". Well Earth is quaint and it is just about a decade old. Ups.

I'm close to falling a sleep at the thought of writing a synopsis about this book, so I won't, but you'll find one on both Amazon and Book Pages (links above).

P.S. I just had a look at the Amazon.com page for Earth and the reviewers there seem to not only like this book but to actually love it! Well, Ce la vie!
Written on 1st July 1999 by TC .
You may also like