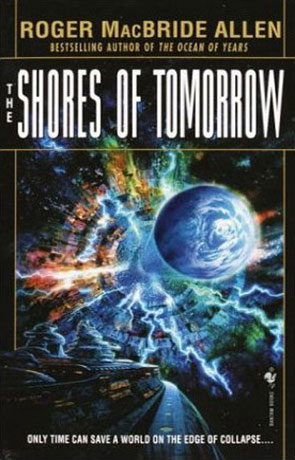 Book details
The Shores of Tomorrow

Series:

Chronicles of Solace

Publisher:

ISBN:

Published:

December 2003

Pages:

512

Format reviewed:

Paperback

Review date:

30/10/2003

Language:

English

Age Range:

N/A
Books in the series
About the author
The Shores of Tomorrow is the third volume in the Chronicles of Solace series by Roger MacBride Allen.
In the far distant future, mankind has learned, thanks to Oskar DeSilvo, how to terraform planets. Once that operation was complete, humanity would colonize that world but what few people know is that DeSilvo took credit for another person's concept. That individual had concluded that eventually terraforming would fail. The prediction proved true on the planet Blister just as it is now happening on Solace.
Eventually all the terraformed worlds will collapse and the refugees will return to their home world, bringing with them spores and microbes that that will result in plagues and the death of humanity. The chronological patrol knows this and is trying to buy time by suppressing technologies. DeSilvo has found a way to prevent the eventual extinction of humanity but he must convince his most powerful enemy Anton Koffied that they must work together on his plan that will pit them against the chronological patrol and DeSilvo's many other enemies.
Oskar DeSilvo is both the protagonist and the antagonist of THE SHORES OF TOMORROW. He lied and falsified information that could lead to the death of humanity but he acknowledges his guilt and is doing everything in his power to make restitution. There is much action in the several sub-plots that seamlessly flow into the main story line. Roger MacBride Allen may be new to the science fiction genre but there is no doubt that he is a rising star with the talent to rival the brightest suns of the galaxy.
Written on 30th October 2003 by TC .
You may also like